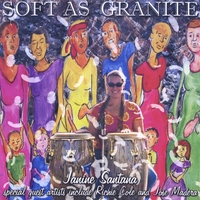 Janine Santana
Soft As Granite by conga player (conguera) and band leader Janine Santana is a must have CD in your Latin music CD collection. Soft As Granite is a sweet blend between Brazilian singer Flora Purim and the late conga master Mongo Santamaria. Janine portrays her own style as a musician and bandleader. When I listen to Janine Santana's music I hear a blend of funk with a hot Brazilian Latin sound.
When asking Janine Santana what influenced her to make this CD, Janine said: "I was, and still am inspired by a drive to express what I feel and hear in the music I love. I had just come out of a very rough period in my life, where playing Latin percussion and working with amazing musicians kept me engaged with the good parts of life. This CD took a while to be able to produce, but it is a celebration of those people who kept me smiling, and a variety of the music I love…with my own twist."
Janine Santana has some legendary icons as band members. To name a few, sax jazz legend Richie Cole and the legendary Latin band leader and timbalero Jose Madera, director of the Mambo Legends Orchestra. Asking Janine about her band members she remarked: "I used the people who I respect, as musicians who are amazing and expressive, who I relate to when I hear them perform. I have the legendary Richie Cole on alto sax, Brad Goode and Greg Gisbert on trumpets and cornets…very different from each other and very mesmerizing they are, as well as the most elegant musician/arranger I have ever had the pleasure to work with, José Madera on timbales (who also keeps me laughing, no matter what else is going on around us).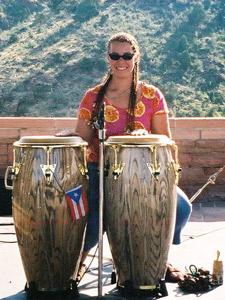 I used a few different drummers from the Denver area on different tunes, according to the genre and what each was particularly good at: Paul Romaine, Peter Gregory, Chris Lacinak of New Orleans. On bongos, besides Jose Madera I have Jimmy Espirit…formerly known as Jimmy Hopps, who has drummed for some of the most respected jazz artists ever to live and on bass Mr. Kim Stone, formerly of Spyro Gyra and Mr. Bijoux Barbosa of Sao Paolo, Brazil. On violin, Mr. Lionel Young and my pianist is Jeff Jenkins, our first call guy for almost every international jazz artist who blows through town, and co-owner of Mile High Music recording studio where we recorded this CD. The beautiful vocalist is Miss Wendy Fopeano."
Janine is planning to record another CD soon, I am anxious to hear her next recording. Janine has a very bright future as a band leader, contributing her works to the Latin music encyclopedia of music.
"I am planning on entering the studio again this Spring, with some crazy and beautiful new arrangements and as much verve as the last CD!," said Janine. "I will have many of the same cats on it and some very, very special guests who I am working with now. Since I self-produce, it takes a bit longer to pull it all together, but I feel it's well worth it, being able to chose who and what I want to do to express what I hear in my head. My style is a bit different because I very much encourage each and every musician with me to input all thoughts and ideas. I think of them as my leaders and co-creators, I just organize the project! I respect them all very much."
I was very fortunate enough to know the great conga master Mongo Santamaria and as a compliment to Janine's music, Mongo loved her style and demonstrated it in his recordings. I believe if Mongo Santamaria was alive today he would be happy for Janine Santana and would be slightly envious of her fine works and as a great Latin band leader.
Buy the album:
Author:
Les Moncada
Les Moncada is a Latin Jazz orchestra leader and conguero for over 40 years. He was born in Oakland, California and currently resides in Sacramento, California.
Les Moncada is a student of conga and batá master Francisco Aguabella, a friend of the late promoter Bill Graham, vibraphonist Cal Tjader, Latin Jazz band leader Pete Escovedo, conguero Mongo Santamaria and many, many more.
He has been writing for many years for World Music Central.
Les has several Facebook sites: Timbales and Congas Bongo Bata & bells; Conguero, Professional Conguero & their Instrument; Bongocero, Professional Bongocero their Instrument; Alambres Dulces, Tres, Cuatro & Laud