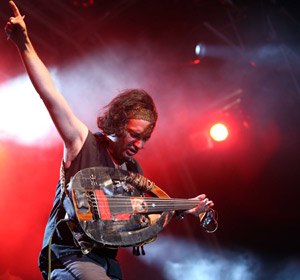 More than 53,000 festivalgoers attended WOMAD Abu Dhabi 2011, which took place on the Corniche in Abu Dhabi and in Al Jahili Fort, Al Ain. The three-day festival concluded on Saturday night with a captivating line-up of performances by artists from Pakistan, Egypt, Europe, Iraq, Algeria and the UAE. The collaboration between Emiratis Tarab Al Emarat and the Iraqi Hungarian oud player Omar Bashir, really showed what WOMAD was about when they provided a unique fusion of local and international flavor to a memorable evening of songs, dance and artistic presentations.
Another collaboration from French Moroccan singer Hindi Zahra and Egyptian master musicians El Tanbura proved very successful too. Hindi's deep soulful voice striking against the male vocals of El Tanbura proved to be incredibly moving and a very enjoyable experience.
Other performers on the festival's concluding night were the astounding Pakistani sufi singer Sain Zahoor, Goran Bregovic Wedding and Funeral Band– who's cheeky gypsy rhythm made it very difficult not to dance, and Speed Caravan.
Malian singer Khaira Arby demonstrated her exquisite cooking skills for the festival's final installment of Taste the World. The final night of workshops were conducted by Jamaican dancer Ripton Lindsay, Dubai Drums and Aurelio from Honduras, introducing the audience to Garifuna soul. There was also the final screening of the short animation "Abu Dhabi Dub" which was completed in through collaboration between students and artists, film makers, musicians and photographers.
The children were in full force for the final day of the children's workshops, which again featured English artists Dot to Dot, Taking Shape, David Cox and Malarky. There were also Henna Painting sessions and the completed Art of the Ndebele mural looked stunning.
Abdullah Al Amri, Director of Arts and Culture Department at ADACH, said: "The Abu Dhabi Authority for Culture and Heritage is very pleased to have organised and hosted another immensely successful edition of the WOMAD Abu Dhabi Festival. Our experience this year will surely be invaluable in our continuing efforts to further raise the bar of excellence and reaffirm the event's reputation as the festival of festivals in the UAE. We are deeply thankful to all the visitors who have come all the way from different places across the UAE and in the region, along with the performers who have selflessly shared their talents and time to make this a truly memorable festival of music and arts."
Chris Smith, WOMAD Director, said: "It has certainly been an unforgettable three days of musical and artistic presentations by some of the finest artists from around the world. We are thankful to the Abu Dhabi Authority for Culture and Heritage for being such gracious hosts and to the people of UAE for coming in full force to support of the WOMAD Festival in Abu Dhabi and Al Ain. With the huge success we have achieved this year, we are definitely looking forward to the edition of WOMAD Abu Dhabi in 2012."
Author:
World Music Central News Department
World music news from the editors at World Music Central