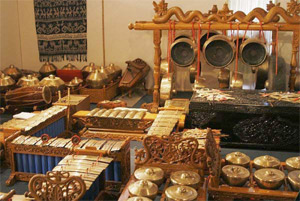 The Center for World Music and the Consulate General of the Republic of Indonesia in Los Angeles will present Gamelan Festival 2011 in San Diego at 6:00 P.M. on Friday, April 29, 2011 at Canyon Crest Academy.
Canyon Crest Academy is the first American high school to purchase a full Javanese gamelan and to enjoy year-round, weekly, on-campus instruction by a distinguished senior Javanese musician.
With dancers and musicians from both San Diego and Los Angeles, and trained by two distinguished Indonesian artist directors (Pak Djoko Walujo and Pak Ade Suparman), five local gamelan groups will participate: a professional Sundanese gamelan degung (Kembang Sunda), a children's Balinese gamelan angklung, the Javanese gamelan from San Diego State University, the Javanese gamelan from California State University San Marcos (CSU San Marcos), and the high school Javanese gamelan from Canyon Crest Academy.
The Festival will celebrate the arrival and naming of the new Javanese gamelan at Canyon Crest Academy.
Event Name: Gamelan Festival 2011
Start: Friday Apr 29, 2011 6:00 PM
End: Friday Apr 29, 2011 9:00 PM
Prices: $10.00 (students with ID) and $15.00 (general)
Location:
Canyon Crest Academy
5951 East Village Center Loop Road
San Diego, CA 92130
United States
Tickets: brownpapertickets.com/event/168122
Author:
World Music Central News Department
World music news from the editors at World Music Central