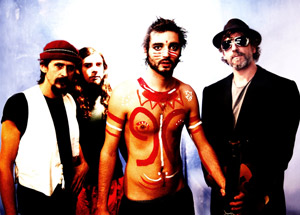 Trance Untes is a Madrid-based band that plays dance music rhythms such as trance, house, techno and progressive through world music instruments. Trance Untes will be performing April 7th at Sala Taboó in Madrid at 22:30.
Trance Untes wants people to dance and reach a trance state using unconventional means and the global sounds of Africa, South America, Oceanía, Asia and Europe. The band does not use electronic instruments.
Band members include Salorian (harmonium, carcasheps, bass, doum doum and cowbell), El Cid (cavaquinho, sitar and electric guitar), Laguna (didjeridu and drums), Ain (pandeiro, zambomba and birimbao) and Rebecca (vocals).
Sala Taboo is located at Calle San Vicente Ferrer 23.
Tickets: 7€
Author:
World Music Central News Department
World music news from the editors at World Music Central