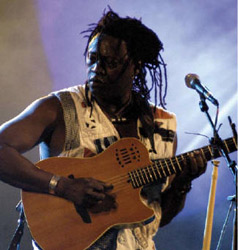 The concert series UCLA Live will present Acoustic Africa at Royce Hall Saturday March 26 at 8 p.m. The concert includes Habib Koité, Oliver Mtukudzi and Afel Bocoum in a musical journey that focuses on the richness of the African guitar tradition.
Performing solo, duo and trio, and backed by an ensemble of traditional stringed and percussion instrumentalists – the concert weaves a collection of traditional songs among contemporary popular ones from each of the leaders.
Headlining Acoustic Africa are the continent's most indomitable touring artists, songwriters and social commentators; Habib Koité, the Malian superstar whose exciting concerts have endeared him to audiences worldwide, Oliver Mtukudzi, the best-selling artist in his home country of Zimbabwe, and Afel Bocoum, a guitarist, singer, and composer from Mali whose songs evoke the evolution of traditional Malian society.
Acoustic Africa is presented under the artistic guidance of International Music Network and its Belgian partners Contre Jour. The project began in 2006 with a Putumayo compilation album, and went on to come an internationally celebrated companion tour of the same name that brought together singers Vusi Mahlasela, Habib Koité and Dobet Gnahoré.
This year's second rendition is a celebration of modern Africa, at times subtle and solemn, then ebullient with celebratory rhythms– compelling audiences to move to the stage and share in the dance.
The three songwriters have also written a new original song for the occasion– the joyous "MaliZim," which features a cascading Mbira (the traditional instrument of the Shona music from Zimbabwe), combined with a calabash to provide the rhythmic base for swirling guitar and Njurkle, all coiled in a soulfully hypnotic dance. Another up-tempo highlight of the show is a version of Africa's most well known love song "Malaika," reworked with hip swaying township rhythms to create an indestructible beat.
African music rooted in distinctive musical tradition, was the direct influence from which blues and jazz evolved. One can trace R&B, rock, and soul directly through this lineage. As American popular music has evolved from these traditional roots in Africa, so has it recombined with that ancient folk music to inform the second0generation popular music icons there, including Koite, Mtukudzi, and Bocoum.
One of Africa's most exciting performers, Habib Koité plays music that reflects the diverse musical traditions of his Malian homeland. Accompanied by his band Bamada, Koité has released a number of successful and critically acclaimed albums and has appeared on "The Late Show with David Letterman" and in major magazines such as People and Rolling Stone.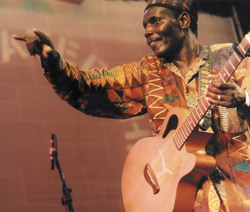 Oliver Mtukudzi, lovingly called "Tuku" for short, began recording in the mid-1970s as a member of Wagon Wheels, a band that also featured Thomas Mapfumo. After Wagon Wheels rolled to fame in Southern Africa, Tuku formed Black Spirits, the band that has backed him throughout his career.
Mtukudzi has been heavily influenced by chimurenga, the genre pioneered by Thomas Mapfumo that is inspired by the hypnotic rhythms of the mbira (thumb piano).
His music also incorporates pop influences, South African mbaqanga, the energetic Zimbabwean pop style JIT, and the traditional kateke drumming of his clan, the Korekore. One of Tuku's biggest fans is Bonnie Raitt, who called Oliver "a treasure," and used his music as inspiration for the song "One Belief Away" on her album Fundamental.
Afel Bocoum began his music career at age 13 with his uncle Ali Farka Toure, in his group Asco, a collaboration which lasted some 30 years. In the 1980s, Bocoum founded his own group, which he named Alkibar, in which he plays the guitar, composes, and sings. He sings mainly in Sonrai, his mother tongue, but also in Tamashek, the language of the Tuareg, and in Bambara.
Single tickets are on sale now. UCLA Live at Royce Hall, 340 Royce Dr., Westwood. Saturday, March 26 at 8 p.m. $43-$68 ($15 UCLA students). (310) 825.2101, www.uclalive.org
Author:
World Music Central News Department
World music news from the editors at World Music Central