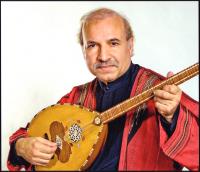 In his long-awaited Alwan debut, the gifted and versatile Dr. Ali Jihad Racy of Lebanon will give a solo performance Saturday, February 19th in a program that evokes the mystical spirit of the Middle East, featuring instrumental works and improvisations by this Lebanese-born composer, multi-instrumentalist, scholar and UCLA ethnomusicologist.
About the Music
The musical content in the program derives from the classical musical traditions of the Ottoman Sufi world and displays the distinctive nuances of Racy's own style. Several instruments will be heard, including the buzuq, a long-necked lute, the nay, a reed-flute cherished by several Sufi groups, especially the Mevlevi order established by Jalal al-Din Rumi in the 13th century, and the salamiyyah, a reed-flute used by Egyptian Sufi performers.
The theme of the performance is inspired by the mystic notion of universality and the Sufi doctrines of Unity of Being and Divine Love. The program will offer an intimate experience of the spiritual and cultural ethos of the Middle East and of music's transcendental power.
About the Artist
A. J. Racy, Ph.D. is a performer, composer, and Professor of Ethnomusicology at the University of California at Los Angeles. Born in the village of Marjeyoun in southern Lebanon, he comes from a well-known family of artists, scholars, and academicians.
Racy is internationally recognized for his extraordinary musicianship and his numerous publications, including his award-winning book, Making Music in the Arab World: The Culture and Artistry of Tarab (Cambridge University Press, 2003).
He is a master of many traditional instruments, particularly the nay, a reed-flute, and the buzuq, a long-necked fretted lute. He has performed extensively in Lebanon and has appeared in major U.S. theaters, such as Carnegie Hall, the Kennedy Center, and the Hollywood Bowl and at international venues, including the Beiteddine Festival in Lebanon, the Commonwealth Institute in England, the Institute of Fine Arts in Mexico, the School of Music of the Federal University of Rio de Janeiro, and the Villa-Lobos Institute in Brazil. He has lectured widely in North America, as well as in Finland, Greece, Mauritius, Réunion, England, Turkey, Mexico, Brazil, and throughout the Arab world.
He has composed for and performed with the Kronos Quartet and the Sacramento Symphony Orchestra, as well as for feature and documentary films. He has performed with many renowned artists including, Kenny Burrell, Shujaat Khan, Tsun Yuen Lui, Sting, Tito Puente, Djivan Gasparyan, Wadi al-Safi, Cheb Khaled, and Shaykh Hamza Shakour.
His music has been released on a number of CDs, including four Lyrichord albums, Ancient Egypt, Taqasim, Mystical Legacies, and When the Rivers Met, and on a Kronos Quartet release titled Caravan.
Dr. Racy is the recipient of numerous honors and tributes from a variety of cultural institutions for his outstanding artistry and his continuous work toward greater intercultural understanding and cooperation.
Saturday, February 19th, 9pm
Doors open at 8:15pm
Tickets:
$25 available at the door or online here
$20 students/members/seniors available at the door or online here.
(Please bring printout as ticket. IDs will be checked at the door)
Alwan for the Arts
16 Beaver Street (between Broad and Broadway), 4th floor,
New York, NY 10004
(646) 732-3261
Author:
World Music Central News Department
World music news from the editors at World Music Central