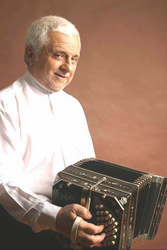 Argentine bandoneon virtuoso and composer Daniel Binelli is a featured performer and composer on Tango Metropolis' continuing tour of France from February 8 Through 12.
Tango Metropolis is a highly innovative tango show created by Music Director Daniel Binelli, Choreographer and Stage Director Pilar Alvarez, and Artistic Director Claudio Hoffmann. Using music by Binelli, Piazzolla, Salgan, Mores, Firpo, Gardel and others, it adds new musical and choreographic forms of tango, dynamically and theatrically expressed, to the traditional repertoire.
Daniel Binelli is an internationally renowned master of the bandoneon, acclaimed as the foremost exponent and torchbearer of the music of Astor Piazzolla. As a composer, many international orchestras, ensembles, Tango companies and soloists have commissioned and/or performed his works, including the Zurich Symphony, Edmonton Symphony, Buffalo Philharmonic, Colorado Music Festival, Montevideo Philharmonic, Colombia Symphony, and Buglisi/Foreman Dance Company as well as Osvaldo Pugliese Orquesta Tipica (Argentina) and Tango 7 (Switzerland).
He is featured on the Grammy-nominated Naxos CD Astor Piazzolla – Sinfonia Buenos Aires. The disk and producer Tim Handley have been nominated for a 2010 Grammy Award in Category 96 – Producer of the Year, Classical. Daniel Binelli is soloist in Piazzolla's Bandoneón Concerto, nicknamed 'Aconcagua," with conductor Giancarlo Guerrero and the Nashville Symphony Orchestra. Other works on the disk are Sinfonía Buenos Aires and Las Cuatro Estaciones Porteñas (The Four Seasons of Buenos Aires).
Concert dates and locations:
February 8 – Theatre Olympia, 21, avenue du General de Gaulle in Arcachon
February 9 – Theatre Municipal, 81, place Travot in Cholet
February 10, 11 and 12 – Grand Theatre De Lorient, Place de l'Hotel de Ville in Lorient
More information at:
Author:
World Music Central News Department
World music news from the editors at World Music Central