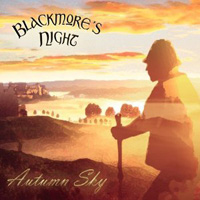 Blackmore's Night, the "fantasy" inspired folk rock band formed by legendary guitarist Ritchie Blackmore and his wife Candice Night, will release their newest album "Autumn Sky" on January 18, 2011 in the USA through Spinefarm Records / Fontana.
With a career spanning nearly two decades, the band of minstrels has gained cross over success all over the world with a new genre they call "Ren and Rock" music. The lyrics, written by award winning Singer/Songwriter Candice Night, are inspired by nature and the myths and fairy tales they encounter on their international travels.

The melodies, composed and arranged by guitarist Ritchie Blackmore, encompass musical structure and the essence of melodies from the early 1600s. And then they are "Blackmore-ized" to become melodies of today.
Blackmore's Night's last album, "Secret Voyage", debuted at #1 on the Billboard New Age Chart and held that spot for four consecutive weeks. All of their previous albums have earned the band high chart positions and many gold records and awards all over the world.
In addition to being known from their unique sound which combines traditional as well as modern day instruments (including electric and acoustic guitars, keyboards, violins, shawms, chanters etc), and Candice's lyrics and vocals, they are also known for their live shows, many of which have been performed at castles and other exceptional venues that add to the mystique and warmth of their performance.
Blackmore's Night has appeared nationwide in the United States on PBS and Discovery channel specials, and has been awarded the Best Album of the Year and Best Vocal Album of the year by NPR New Age Reporter for their past 7 studio CDs.
Recorded during Candice's pregnancy, Candice and Ritchie have dedicated the "Autumn Sky" album to their newly born daughter Autumn Esmerelda Blackmore.
Author:
World Music Central News Department
World music news from the editors at World Music Central