The fiddle plays an essential role in Norwegian folk music. Musicians use two types of fiddles, the regular fiddle and the hardanger fiddle, which is a decorative instrument with resonating under-strings. In recent years there has been an explosion of fiddle recordings in Norway. These are some of the recordings I collected during my recent trip to Norway.
Majorstuen is what you could call Norway's fiddle supergroup, combining Norwegian roots music with contemporary acoustic sounds and improvisation. The group features some of the finest young fiddle players in the Nordic country, most of which have successful solo careers. Majorstuen line-up includes Synnøve S. Bjørset: fiddle; Tove P. Dalbakk: fiddle / cello; Jorun Marie Kvernberg: fiddle; Gjermund Larsen: fiddle; and Andreas Ljones: fiddle.
Majorstuen has released four albums, Majorstuen, Jorun Jogga, Juledrøm and Skir. The ensemble was awarded the top Norwegian music award in 2003 for their debut album. In 2005 they were appointed "Folk Musicians of the Year" by the Norwegian Concert Institute. Their latest album is Skir (Majorstuen Fiddler's Company, 2010).
Gjermund Larsen, a member of Majorstuen, has his own project called Gjermund Larsen Trio. His album Ankomst (Heilo/Grappa, 2008) combines the best of Norwegian folk music with elements of classical music and contemporary jazz. Larsen's Trio includes double bassist Sondre Meisfjord and pianist/organist Andreas Utnem. Two additional guests participate in Ankomst: percussionist Helge Norbakken and vocalist Gro Kjeleberg Solli.
Ankomst received the Spellemannsprisen (the top Norwegian music award, equivalent to the American Grammy). He has also won the 'Landskappleiken' (National Contest for Traditional Music) twice. In addition to his work with the Gjermund Larsen Trio and Majorstuen, Larsen also performs with Frigg and Christian Wallumrød Ensemble.
Fiddler and singer Sigrid Moldestad has a new album this year, titled Sandkorn (Grappa). Moldestad combines a set of songs and ballads and instrumental tunes. She is joined by Sigbjørn Apeland (harmonium), Jørgen Sandvik (guitar, banjo, mandolin) and Anders Hall (fiddle, viola, Hardanger fiddle). Evangeline Kim (National Geographic Music, Afropop, Songlines, etc.) chose it as one of her top Top 10 World Music Recordings for 2010.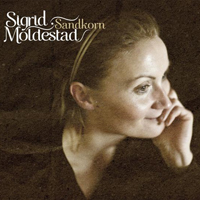 Sigrid Moldestad grew up in Breim in Nordfjord. Previous recordings include Spindel (Grappa/Heilo, 2001), Gamaltnymalt (NORCD, 2005), Aminje (Grappa/Heilo, 2005), and Taus (Grappa/Heilo, 2007)
Another member of Majorstuen, Synnøve S. Bjørset, has a new hardander fiddle album titled Slattar. Bjørset, one of the most reputable performers of hardander fiddle, presents a collection of little-known tunes and reinterpretations of familiar pieces from the fjord and mountain regions of Sunnfjord, Sogn and Valdres. Synnøve S. Bjørset was born 1979 in Jølster, in the county of Sogn og Fjordane.
Olav Luksengård Mjelva dedicates Fele/hardingfele, Røros/Hallingdal (Etnisk Musikklubb) to the fiddle traditions of Røros and Hallingdal.
Olav Luksengård grew up in the Røros area and learned fiddling at weekly "Litjhurven" practices with Olav Nyhus and his wife Mary at their home in Glåmos. He also spent part of his childhood in Hallingdal.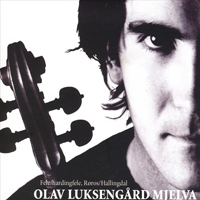 Røros and Hallingdal are many miles apart. Fiddlers in Hallingdal use the Hardanger fiddle, while Røros fiddlers use the normal fiddle. However, there some similarities. The playing-technique in the Røros tradition involves bowing two strings at a time and using double-stops, as does playing on the Hardanger fiddle. In addition, fiddling in both Røros and Hallingdal is energetic and characterized by a rhythmic drive.
Fiddler Britt Pernille Frøholm joins accordionist Irene Tillung in a beautiful album titled Eins (Ta:lik TA79 CD, 2009). The collaboration features pieces from the folk tradition of western Norway as well as new original compositions. Eins was recorded in the Nordmarka Chapel in Oslo.
Britt Pernille Frøholm (1978) was born in Hornindal, Sogn og Fjordane, Norway. She is educated at Ole Bull Academy and Rauland Academy (MA in Traditional Arts). She has played the fiddle from the age of nine. The Hardanger fiddle is her main instrument, and her first solo album "For allje dei", came out in January 2008. Pernille Frøholmby plays folk music from her own hometown Hornindal, as well as contemporary music. She also collaborates with composers and improvises with jazz musicians.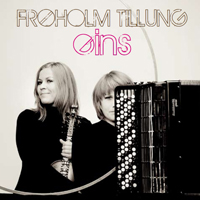 Irene Tillung (1977) is educated from Norwegian Academy of Music and The Music Academy of Copenhagen, and she is one of the most renowned accordion players in Norway. She plays in the group Tindra and is also a musician in Teater Tramp, which is a collaboration between two actors and one musician. Mastering several musical genres and performing as a soloist as well as an accompanist in different constellations, she has spent the last years touring for Rikskonsertene mostly in Norway, but also in Vietnam, India and Sudan.
Hardingfele (Etnisk Musikklubb) is the debut album by Gro Marie Svidal, who specializes in the hardanger fiddle. She plays common and less known traditional music from the Western Norwegian fjord provinces of Sogn og Fjordane and Hordaland, especially the regions of Jølster and Sunnfjord. The old Hardanger fiddle tunes on this CD are ones she learned from transcriptions and recordings, and directly from other fiddlers. Most of the tunes are from Sunnfjord and Jølster in western Norway, where Gro Marie Svidal grew up.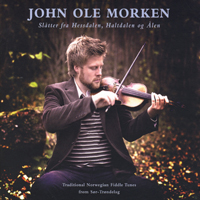 John Ole Morken has revived the endangered musical traditions of Holtålen County in the region of Trøndelag, Norway. Holtålen, located south of Trondheim and bordering on Røros, has rich music and dance traditions whose history dates back more than 200 years.
On Slåtter fra, Hessdalen, Haltdalen og Ålen, which is John Ole Morken's debut, he's invited musician friends Jørgen Nyrønning, Olav Mjelva, Tore Reppe, Ivar Schjølberg – and producer Bjørn Aksdal to participate in recording sessions at Bent Jacobsen's log-cabin studio in Os, south of Røros.
Triller is the new contemporary folk album by fiddler Sturla Eide from the Sør-Trøndelag region. Eide uses an ensemble that includes guitar, bouzouki and accordion, mixing traditional influences with improvisation and present-day elements. Sturla Eide's previous album was Murru, released in 2007.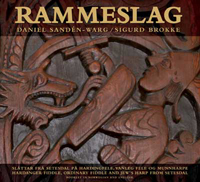 Rammeslag, ordinary fiddle and jew's harp from Setesdal (Etnisk Musikklubb EM29, 2007) presents Sigurd Brokke (jew's harp) and Daniel Sandén-Warg (Hardanger fiddle), two young performers of the rich folk music tradition from Setesdal. Foot stomping percussion is used consciously to produce the special character of this music. The CD won a Folkalarm Award as best solo album of 2007. A second volume, Rammeslag II (Etnisk Musikklubb EM49, 2009) contains 27 pieces and includes a 28-page illustrated booklet in Norwegian and English.
The 2 CD set Sordølen – Traditional Music from the South of Norway (Etnisk Musikklubb EM 16, 2004) by Vidar Lande, focuses on the music of Setesdal. Vidar Lande is one of Norway's foremost folk musicians today. Gunhild Tømmerås is the guest artist, singing folk songs and texts that are connected to some of the fiddle tunes. Most of the music is little known, even in Setesdal, and has not been released before.
Author:
Angel Romero
Angel Romero y Ruiz has been writing about world music music for many years. He founded the websites worldmusiccentral.org and musicasdelmundo.com. Angel produced several TV specials for Metropolis (TVE) and co-produced "Musica NA", a music show for Televisión Española (TVE) in Spain that featured an eclectic mix of world music, fusion, electronica, new age and contemporary classical music. Angel also produced and remastered world music albums, compilations and boxed sets for Alula Records, Ellipsis Arts, Music of the World.