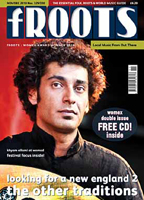 Yesterday afternoon in Copenhagen, fRoots magazine's founding editor Ian Anderson was honored to receive the 2010 Womex Award For Professional Excellence, presented to him by veteran UK journalist and broadcaster Robin Denselow. fRoots becomes one of only two UK recipients of the award since Nick Gold of World Circuit Records received the first in 1999.
In his acceptance speech, Ian Anderson said that he was "particularly pleased that the world music industry, via Womex, has now recognized the vital role that the independent print media plays in this fragile eco-system that we all occupy."
"When we started 31 years ago, the very first issue said that its motto was 'Inspiration to Enthusiasm', and that's still what we're here for today. We're one of the few direct links between the people who make and present the music and the readers who love it, whose lives can be changed by it. Our writers contribute because they want to pass on their excitement, passion and enthusiasm about the music, and to tell the stories of its makers.
The difference between independent, grass roots print media like us, and the more commercial music press is that you know that everything is driven by an honest commitment to the music. Everything's in our pages because one of our writers wanted it to be. And the readers appreciate this: they know that a feature on an artist who they haven't heard of before is worth reading because it's there solely on merit."
"You get to read about so many things that you'll never find anywhere else. The mainstream press only covers a minuscule amount of the folk and world music that comes our way: very little gets played on the radio. The internet carries too much information. As somebody from one of the bigger world music labels told me at a festival this summer, he counts on us to find and filter what's out there, because it would be an impossible job for him and he'd miss so much of it otherwise."
Sounding a note of caution and realism, though, Ian Anderson warned that "the independent, specialist folk and world music music press is an endangered species. Reader support is as strong as ever, but the industry has to return that support, that important symbiosis, which is why we're so pleased to receive this award: somebody noticed."
See and hear Ian's full acceptance speech here: moon-flash.com/blog/ian/
Author:
World Music Central News Department
World music news from the editors at World Music Central