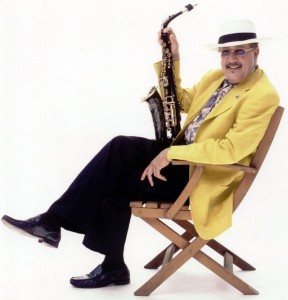 Cuban-born alto saxophone and clarinet virtuoso Paquito D'Rivera will release his new CD, titled Panamericana Suite,on the MCG Jazz label on November 2. Recorded live at Pittsburgh's Manchester Craftsmen's Guild for MCG Jazz in April 2008, "Panamericana Suite" takes its name from a piece commissioned by Jazz at Lincoln Center that D'Rivera premiered in 2000. A stunning cultural synthesis encompassing North, Central, and South America leavened with a Caribbean rhythmic sensibility, the project reflects D'Rivera's embracing musical vision.
"I am an eclectic person," D'Rivera says. "I grew up the son of a classical saxophone player who loved jazz. He loved to put on Heifetz and Mario Lanza, and then listen to Benny Goodman and the Duke Ellington Orchestra. Growing up in Havana, Latin American music was in the air."

The new CD boasts an all-star international cast, with Pedro Martinez (batas, timbales, vocals), Pernell Saturnino (percussion), Oscar Stagnaro (bass), and Mark Walker (bass) comprising the supple rhythm section.
Also featured in the Panamericana Orchestra are pianist Alon Yavnai; Dana Leong on trombone and cello; Hector del Curto, bandoneon; Andy Narell on steel pans; Dave Samuels, vibraphone and marimba; trumpeter Diego Urcola; the Colombian harpist Edmar Castaneda; and the Puerto Rican lyric soprano Brenda Feliciano.
"This recording expresses the essence of Paquito D'Rivera," says Marty Ashby, who produced the CD with his brother Jay Ashby. "From refined Classical compositions to swinging jazz, Paquito takes the listener on a journey celebrating the multitude of Latin and World rhythms, connecting them with the best of jazz and classical traditions."
Since making his way to the U.S. in 1979, Paquito D'Rivera has established himself as a force in the jazz world, with numerous solo albums and a long-running association with Dizzy Gillespie, culminating when he became one of the musical directors of the trumpeter's last great band, the United Nation Orchestra. D'Rivera led the United Nation Orchestra to a Grammy nomination for Best Latin Jazz Album at the 40th annual Grammy Awards with its "Live at MCG" CD, which was recorded at Manchester Craftsmen's Guild.
In 2005, he was named an National Endowment for the Arts (NEA) Jazz Master and awarded the National Medal of Arts at the White House. He's the only artist ever to have won Latin Grammy Awards in both Classical and Jazz categories, for 2003's Stravinsky's "Historia del Soldado (The Soldier's Tale)" and "Brazilian Dreams." No matter what style he's exploring, D'Rivera consistently collaborates with the finest musicians and ensembles, from the Ying Quartet, Turtle Island Quartet, Imani Winds, and Yo-Yo Ma to the London Royal Symphony, Puerto Rico Symphony Orchestra, National Symphony Orchestra, and the Simón Bolívar Symphony Orchestra.
As a leader of numerous bands and projects, and an increasingly acclaimed composer, D'Rivera continues to blaze new trails, combining the styles and traditions that excite his imagination. He was recently commissioned by Caramoor, as Composer in Residence, to write a concerto for the St. Luke's Chamber Orchestra; the work, titled "Conversations with Cachao," is dedicated to the Cuban bass legend. D'Rivera has just released a new CD called "Tango Jazz: Live at Jazz at Lincoln Center" on Paquito Records/Sunnyside Records.
Author:
World Music Central News Department
World music news from the editors at World Music Central