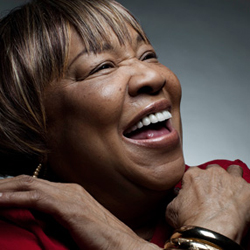 Mavis Staples brings her trademark powerful voice and inspirational music to the Carolina Theatre in Durham (North Carolina), Friday October 1 at 8:00 p.m. The Carolina Theatre is one of Staples' early stops promoting her new album, You are Not Alone. Produced by Wilco's Jeff Tweedy, the album is an intimate and textured production that mixes traditional gospel numbers with two new songs written for Mavis by Tweedy.
For more than half a century, the voice of Mavis Staples has inspired and delighted audiences around the world. Starting in the 1950s touring with her father and siblings as The Staples Singers at churches around the country, then lending her voice to the Civil Rights movement, and recording hit after hit as a solo artist from the 1970s right up to the present day, Staples remains one of the most powerful – and most beloved – singers of gospel, soul, and rhythm and blues.

In 2010, her album Live: Hope at the Hideout was nominated for a Grammy as Best Contemporary Blues Album, just the latest in a string of hits that stretches back to her earliest days. The Staples Singers scored their first hit in 1956 with the gospel single "Uncloudy Day" and had eight Top 40 hits during the 1970s, including the No. 1 single "I'll Take You There."
During the 1960s, the Staples family group became "the voice of the Civil Rights movement" thanks to "Pops" Staples' friendship with Martin Luther King, Jr. They recorded such songs as "Long Walk to D.C." as well as covers of contemporary pop hits such as Bob Dylan's "A Hard Rain's a-Gonna Fall." In 2007, Mavis recorded the album We'll Never Turn Back, an emotional tribute to the Civil Rights movement including some of her personal favorites, such as "Eyes on the Prize" and "We Shall Not Be Moved."
Over the years, Mavis Staples has collaborated with the top names in all genres of popular music from Booker T and the MGs and Prince, to Ray Charles, Bob Dylan, Natalie Merchant, Delbert McClinton, George Jones, Ann Peebles, jazz great John Scofield, and Dr. John. And many of these recordings have been award-winning.
Most recently her collaboration on Patty Griffin's disc, Oh Happy Day, singing "Waiting for my Child to Come Home," received a nomination in 2010 for Best Traditional Gospel Album.
Despite her recording success, Mavis Staples is best known for her live performances on stages around the world. The power and emotion of her voice paired with the innovative creativity of her presentations have made her a festival favorite.
Staples' concerts combine songs from her early days with The Staples Singers and Civil Rights movement with works from more recent albums, including her 2010 release You are Not Alone, produced by Jeff Tweedy, songwriter for the group Wilco. Recorded in Staples' hometown of Chicago, the new album features songs by Tweedy, John Fogarty, and Pops Staples, as well as new arrangements of gospel and soul standards.
Mavis Staples comes to the Carolina Theatre in Durham, Friday October 1 at 8:00 p.m. Tickets are on sale at the theatre box office or online at carolinatheatre.org. Call 919-560-3030 to purchase tickets.
Box office hours are weekdays from 11:00 a.m. to 6:00 p.m. Tickets are also available through Ticketmaster at 1-800-982-2787 or ticketmaster.com. Tickets are $48, $38 and $28 for the general public and $32 and $24 for Carolina Star Members and groups.
The Carolina Theatre is located at 309 W. Morgan Street, Durham, North Carolina.
Author:
World Music Central News Department
World music news from the editors at World Music Central