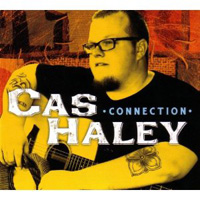 Cas Haley
Connection (Easy Star Records ES-1022, 2010)
I'm not a fan of America's Got Talent and so I missed Cas Haley's appearance on the show. By all accounts he made quite an impression on the viewing public, and his CD Connection is likewise an impressive mix of reggae rhythms, pop, blues and soul sensibilities and an unassuming accessibility that makes this young singer/guitarist/songwriter from Paris, Texas instantly appealing.
It's the recurring Caribbean lilt to Haley's songs that will hook listeners who are of the world music persuasion, but there's clearly mainstream appeal here. Or at least what I'd suppose to be such appeal.
As someone who's been out of that mainstream for years, I'm at a bit of a loss as to whom Haley might be compared to. Part of the reason is the fact that, unlike a lot of contemporary singers, this guy can actually sing. He's got range and reach and can wrap his voice around a swaying blues tempo as assuredly as he can navigate the nuances of a reggae beat.
Lyrically, he mixes "simple, spiritual truths with thoughtful reflection" (to quote the record label bio), singing about love, life and youthful uncertainty in a manner that never seems anything less than genuine.
Despite Haley's TV fame, there's nothing about Connection that suggests a next-big-thing kind of hype. But that's why the disc is a winner. The music is warm, heartfelt and real, and the man behind it sounds likes he's got more good works to come. In the meantime, get this album and enjoy it.
Buy the album:
Author:
Tom Orr
Tom Orr is a California-based writer whose talent and mental stability are of an equally questionable nature. His hobbies include ignoring trends, striking dramatic poses in front of his ever-tolerant wife and watching helplessly as his kids surpass him in all desirable traits.