On October 12, California-based Mexican folk ensemble Los Cenzontles will release 'Raza De Oro' ('Golden People'), a collection of Mexican roots music that pays tribute to the legacy of Mexican-American culture, featuring guest stars Ry Cooder, David Hidalgo (Los Lobos) and Pete Sears (Jefferson Starship).
Earlier this year, Los Cenzontles ("The Mockingbirds") recorded and performed various tracks with The Chieftains and Ry Cooder on their critically acclaimed album 'San Patricio' and collaborated with Linda Ronstadt, Los Tigres Del Norte, Taj Mahal, among others.


The original songs of 'Raza De Oro' demonstrate the beauty and strength of Mexican-American traditions and tackle current immigration issues. The group rallies for action with "Estado De Verguenza" ("State of Shame"), a corrido response to Arizona's immigration law, and "Regresa Ya," an original ranchera about a woman pleading for her migrant husband's return. Ry Cooder plays mandolin and guitar on "Mas Alla," an original song inspired Cooder's own "There's A Bright Side Somewhere."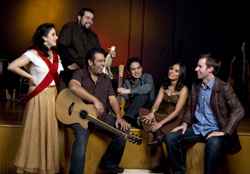 The album also features covers of Los Lobos' "Good Morning Atzlan" and "The Neighborhood," as well as traditional sones jarochos and popular rancheras, like "Soy Mexico Americano" and "Prenda del Alma."
Founded and led by guitarist Eugene Rodriguez, Los Cenzontles is comprised of various musicians who have been members since childhood or adolescence: Lucina Rodriguez, Fabiola Trujillo, Hugo Arroyo, as well as teens Emiliano Rodriguez, Rosemary Gutierrez and Marisa Bautista. Together, they mix bass, drums and violin with traditional Mexican instruments – jarana, vihuela, requinto, pandero and quijada (jawbone) – to create a powerful modern sound that blends rock and blues with the gutsy soul of Mexico's roots music.
Los Cenzontles are currently filming a new music video with legendary filmmaker Les Blank and plan October CD release shows in California.
Upcoming Shows:
Oct. 3 – Felton, CA at Don Quijote
Oct. 15 – Berkeley, CA at Freight and Salvage
Oct. 16 – Sunnyvale, CA at Sunnyvale Community Theater
Recordings available: American Horizon, Songs of Wood & Steel, Una Bonita, Con Su Permiso Señores
Author:
World Music Central News Department
World music news from the editors at World Music Central