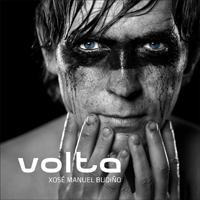 Volta, Xosé Manuel Budiño´s new album, is a roundtrip documentary, a 'road movie' of sorts, covering four continents, ending with a live concert at the Ortigueira Festival.
Within an attractive digipack, Volta includes the DVD of the concert at Ortigueira Festival in 2009, interspersed with images of the tour, a surprise concert surprise at the Plaza de las Platerías of Santiago de Compostela and also mini- interviews with top musicians who have collaborated with in close proximity with Budiño: Kepa Junkera, Mercedes Peón, Xoel López, Jorge Pardo or Donald Shaw and Karen Matheson of Capercaillie. The DVD was directed by Quique Otero.
In the CD, Xosé Manuel Budiño offers an overview of the most representative tracks of his career, from the referential "Paralaia" through tunes of "Arredor", "Zume de Terra" and
"Home", screened on this occasion asa contemporary reinterpretation, and driven by all the power and intensity of a live concert. The album includes two new pieces, "Volta" and "Trady." The package includes an extensive booklet.
Other recordings available: Home, Arredor, Paralaia
Author:
World Music Central News Department
World music news from the editors at World Music Central