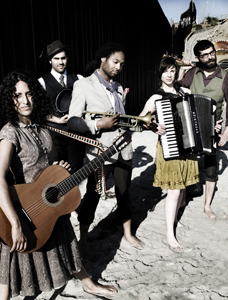 World music sensation Rupa & the April Fishes will be hitting the road in the fall of 2010. Rupa & the April Fishes had been one of the San Francisco Bay Area music scene's best-kept secrets until they were introduced to the world in 2008 with the global release of their debut album eXtraOrdinary rendition.
Praised by the media and ever-expanding legions of devoted fans, the album reached the top spot on the iTunes charts in its category on numerous occasions, was featured on multiple National Public Radio programs.
"My life has become a strange balance between being home and taking care of patients who are very much a part of San Francisco, and then traveling around the world making music," says Rupa. "There's something nomadic about what we're doing, making and breaking ideas as we generate a particular sound in the process."

Rupa & the April Fishes released Este mundo in 2009. The album was recorded at Prairie Sun Studios by engineer and sound wizard Oz Fritz, who is best known for his work with Tom Waits (Mule Variations). Guests include rapper Boots Riley of The Coup, along with some of the San Francisco Bay Area's best musical talents including Tin Hat's trumpeter Ara Anderson and Serbian slap bassist Djordje Stijepovic.
Rupa & the April Fishes blend an alternative pop attitude with international spices, mixing in elements of Gypsy swing, Colombian cumbia, French chanson and Indian ragas. According to lead singer Rupa, "este mundo is a collection of sounds and songs highlighting life's accidental beauty and surging joy as well as their inexorable partner: human suffering."
Get a quick peak of their live show
Rupa & the April Fishes – LIVE at Babel Med
08-29-2010
Washington, DC
Kennedy Center
09-01-2010
New York, NY
Joe's Pub
09-01-2010
New York, NY
WNYC Soundcheck
09-02-2010
Somerville, MA
Johnny D's
09-03-2010
Brooklyn, NY
Barbes
09-04-2010
Philadelphia, PA
World Cafe Live
09-11-2010
San Francisco, CA
Power To The Peaceful – Golden Gate Park
09-18-2010
Chico, CA
Worldfest
10-23-2010
Gualala, CA
Gualala Arts Center
04-09-2011
Amsterdamn, NL
World Sessions at Podium Mozaiek
04-10-2011
Tilburg, NL
World Sessions at Theaters Tilburg
04-13-2011
Groningen, NL
World Sessions at De Oosterpoort
04-14-2011
The Hague, NL
World Sessions at Korzo Theater
04-15-2011
Rotterdam, NL
World Sessions at De Doelen
04-16-2011
Utrecht, NL
World Sessions at Vredenburg
04-26-2011
Luxembourg, Luxembourg
Philharmonie
Author:
World Music Central News Department
World music news from the editors at World Music Central