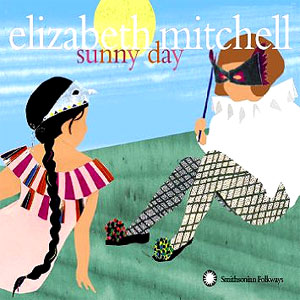 Washington, DC – Elizabeth Mitchell celebrates the beauty of quiet moments with ' Sunny Day' (Smithsonian Folkways Recordings, October 5th). Mitchell, her family, and a host of guest artists from the folk, reggae and rock world, weave a tapestry of spirited and loving songs, reminding us of the beauty of the natural world and the magic to be found during the course of a day.
A true family affair, ' Sunny Day' features performances with Mitchell's husband and musical partner, Daniel Littleton, their nine-year-old daughter Storey and Storey's cousins and friends. The album features two original songs written by Storey, and guest performers include Augustus Pablo, Levon Helm, Dan Zanes, Jon Langford (Mekons), and the Children of Agape Choir of South Africa. There's something here for every musical taste, from traditional American folk songs, to Japanese and Korean nursery songs, to fresh new arrangements of popular songs by Bill Withers ("Lovely Day"), Chuck Berry ("School Days") and Augustus Pablo ("Reggae in the Fields").
' Sunny Day' offers "handmade music" which invites listeners to join in. As Amanda Blake Soule, the author of The Creative Family, notes in the 28-page full-color booklet enclosed with ' Sunny Day,' "These songs bring our attention to the magical, mysterious, fabulous and special simple moments of everyday living." They provide a soundtrack to brighten any day, "inspiring family connection and togetherness," as Soule says.
Mitchell has been performing and recording family music since her days as a New York City preschool teacher in the early 1990s. She released two family recordings ('You Are My Flower' in 1998 and 'You Are My Sunshine' in 2002) on her independent label You Are My Flower. Through word of mouth, these albums became underground children's music hits and were at the forefront of the current wave of independent children's music.
In 2006, Mitchell became the first new children's music artist signed to Smithsonian Folkways Recordings in the 21st century with her release 'You Are My Little Bird.' The CD won national awards in the United States and critical acclaim and continues to be one of Smithsonian Folkways' best-selling albums. Mitchell sang a duet with Ziggy Marley on his 2009 Grammy Award–winning Family Time (also featured on The Tonight Show) and she is also known as a co-founder of the band Ida.
Smithsonian Folkways Recordings has carried on the rich tradition of children's music cultivated by Folkways Records founder Moses Asch. Folkways Records released more than 200 titles made for or by children.
To celebrate the release of ' Sunny Day,' Mitchell and her family band will tour the United States of America this summer and fall.
Song list
1. Sunny Day 1:32 (Storey Littleton)
2. Shoo Lie Loo 3:10
3. Mr. Rabbit 1:33
4. Ooki Na Kuri No Ki No Shita De (Under the Big Chestnut Tree) 1:15
5. Keep on the Sunny Side (with Levon Helm, Amy Helm, Larry Campbell, and Teresa Williams) 2:56
6. Lovely Day 2:26 (Bill Withers)
7. Reggae in the Fields 2:07 (Augustus Pablo)
8. Ong Tal Sam (Little Spring) 1:48
9. Tell It Again 1:22 (Moondog)
10. Green, Green Rocky Road (with Dan Zanes) 2:22
11. School Days (with Levon Helm and Chris Wood) 3:43 (Chuck Berry)
12. Mystery Train (with Levon Helm) 2:36 (Herman Parker and Sam Phillips)
13. Oh, John the Rabbit 1:51
14. David's Mandolin 2:48 (Daniel Littleton)
15. This Little Light of Mine (with the Children of Agape Choir) 2:20
16. Fairy Tale Lullaby 2:30 (John Martyn)
17. Elephants All Over the World 2:02 (Storey Littleton)
18. Little Buckaroo (with Jon Langford) 2:37 (M. K. Jerome and Jack Scoll)
19. Tsuki (Moon) 2:19
Preorder Sunny Day. Other recordings available: You Are My Flower, ' 'You Are My Sunshine', 'You Are My Little Bird,'
"Little Bird, Little Bird" Music Video Performed by Elizabeth Mitchell
Free Download  of "Oh, John the Rabbit" available now at http://www.folkways.si.edu
Author:
World Music Central News Department
World music news from the editors at World Music Central