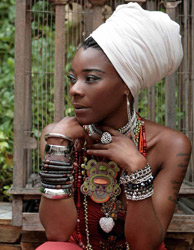 Afro-Spanish singer Buika will be starting her first major North American Tour in the Fall of 2010, including 21 cities October 15 – November 20, 2010. Buika's band during her 2010  North American Tour includes Buika on vocals; Iván "Melon" Lewis on piano; Dany Noe on double bass; and Fernando Favier on percussion. Her newest CD "El Ultimo Trago" (The Last Drink) honors Mexican music legend Chavela Vargas.
Buika is one of the most peculiar Spanish artists around. This singer, born on the island of Mallorca to African immigrant parents from Equatorial Guinea, has become a true revelation to those who thought flamenco had little left to contribute to Spanish music, and to jazz. Her evident African roots and her cosmopolitanism, developed in clubs in Spain and Americanized during a strange detour to Las Vegas as a Tina Turner impersonator, explain Buika's rare self-possession. But nothing can quite explain her ability to connect – one of those rare and wonderful "one listen" artists.
Buika ("BWEE-kah") was born María Concepción Balboa Buika to parents who came to Spain as political exiles. Her family were the only black residents in one of Mallorca de Palma's poor neighborhoods, and such local curiosities that Buika remembers how neighbors used to reach out to touch her hair – an Afro styled from pictures of her early musical idols, Whitney Houston and Michael Jackson. She found a second home among the community of Gypsy families, finding in flamenco's existential challenge a path to self-acceptance.
Flamenco was a open door, says the singer: "It's not just about music, it's a way of life. It's about not running away from yourself. Some people sing about what they would like to happen or would like to be, but in the copla and el cante, we confront who we are, with all our fears and all our defects. In the United States there's also a great tradition like this: it's called the blues."
After a start in Euro R&B and Afropop, Buika released her U.S. debut Mi Niña Lola (My Little Girl Lola) in 2007, which had already won "Best Album" and "Best Production" honors at the Spanish Music Awards. Her next recording project, Niña de Fuego (Child of Fire), produced, arranged and directed by Javier Limón (Bebo y Cigala, Paco de Lucía), and released in 2008, helped to catapult her internationally into the ranks of the most exciting voices in modern Latin music. With no commercial radio play in the States — and just a handful of concerts in Miami, Los Angeles and New York – the CD scored Latin GRAMMY nominations in 2008 in two categories: "Album of the Year" and "Best Production" and an invitation to appear on the televised awards, where she performed an a capella version of "Volver, Volver."
Buika's fans soon included Alejandro Sanz, Gloria Estefan, along with Nelly Furtado and Mariza (both of whom she recorded duets with), director Pedro Almodóvar, photographer Bruce Weber, and the iconic Mexican singer Chavela Vargas. Vargas in particular was critical in opening doors for the young Spanish singer in Latin America.
Yet the story of Buika's relationship with Chavela Vargas began with artistic disappointment. It happened in Madrid four years ago, when Chavela refused to allow Buika on stage to sing with her. After that bitter beginning, the singers became friends, so much so that Vargas was soon declaring that in Buika she had discovered "my black daughter" and "the most amazing and personal voice I have heard in many years."
El Ultimo Trago(The Last Drink), is first and foremost a tribute to Chavela Vargas, released in October 2009 as the equally beloved and belligerent Mexican singer celebrated her 90th birthday. Buika reinvents the repertoire that Vargas has built over her entire career. "Las Ciudades" (The Cities), "Las Simples Cosas" (The Simple Things), "Sombras" (Shadows), and "Luz de Luna" (Moonlight) are some of the songs that Chavela has performed at New York's Carnegie Hall, Buenos Aires' Luna Park, Olympia Theatre in Paris, as well as in Pedro Almodóvar's and Alejandro Gonzalez Iñarritu's films. In the CD, Buika reinvents these Mexican standards, creating a kind of "tequila tablao" – as Spanish as it is Mexican, and as old as it is new.
Supporting the singer on the CD is Cuban piano star Chucho Valdés, who met Buika in 2008 at Spain's Vitoria Jazz Festival, where he was debuting a duet CD with his father, the legendary Bebo Valdés.
For the recording of El Ultimo Trago, the musicians only needed two days at Abdala studios in Havana, Cuba in April of 2009. Producer Javier Limón recorded all the vocals live, with no overdubs. "El Andariego," Alejandro Fernández's famous song, became a rumba; "Somos" (We Are) was transformed into a bolero/cha-cha; and "Sombras" (Shadows) started as a bolero but ended in the blues.
Buika will perform El Ultimo Trago — and celebrate the remarkable life of Chavela Vargas — across North America in her first major tour, beginning October 15th.
Oct 15 Chicago, IL Chicago Symphony Hall
Oct 16 Toronto, CN Koerner Hall, Royal Conservatory of Music
Oct 20 Cleveland, OH Gartner Auditorium/Cleveland Museum of Art Series
Oct 22 New York, NY Town Hall (special guest Javier Limón, guitar)
Oct 23 Boston, MA Berklee Performance Ctr (special guest Javier Limón, guitar)
Oct 24 Portsmouth, NH The Music Hall
Oct 26 Philadelphia, PA Kimmel Center/Perelman Theatre
Oct 28 State College, PA Penn State Center for Performing Arts
Oct 29 Fairfield, CT Fairfield University, Quick Center for the Arts
Oct 30 Fairfax, VA (DC) George Mason U. Center for the Arts
Nov 3 Denver, CO Univ of Denver/Gates Concert Hall
Nov 5 Berkeley, CA UC Berkeley/Zellerbach Theatre
Nov 6 Davis, CA Mondavi Center for the Performing Arts
Nov 7 Vancouver, CN Univ of BC/Chan Centre for the Performing Arts
Nov 10 Los Angeles, CA Walt Disney Concert Hall
Nov 12 Houston, TX Wortham Center/Cullen Theater
Nov 13 Dallas, TX AT&T Performing Arts Center/Winspear Opera House
Nov 15 Hampton, VA American Theatre
Nov 16 Raleigh, NC Stewart Theater
Nov 18 San Juan, PR Centro Bellas Artes de Caguas
Nov 20 Miami, FL Knight Concert Hall
Buy Buika's recordings:
Author:
World Music Central News Department
World music news from the editors at World Music Central