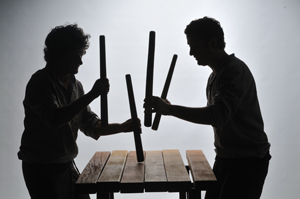 Basque band Oreka Tx will be bringing the sounds of chalaparta (txalaparta in Basque) to North American audiences. The chalaparta is a percussion instrument composed of wooden planks laid over trestles and struck with sticks held vertically. Oreka Tx has a recording titled Nomadak Tx (on World Village) that explores new voices and connections for this ancient and once endangered instrument. American audiences in cities like Minneapolis, San Francisco, Washington and Chicago will get a unique chance to experience these worldly experimenters in September 2010.
"It's a very different understanding if you're used to playing your own instrument and mixing it with the band," explains Harkaitz Martinez de San Vincente, who along with Igor Otxoa founded Oreka Tx. "You have to share the chalaparta with another person. It's the sharing of the rhythm that's difficult, and that's the challenge."
Oreka Tx—Martinez and fellow txalapartari Mikel Ugarte, joined by several other musicians fluent in Basque and global sounds—have taken their instrument, which they make themselves, from precious folk symbol to cosmopolitan high art. The sound recalls the marimba, but only in the way a piano resembles a pipe organ. Its satisfying union of rhythmic and melodic colors can be exploited in full, thanks to a duo of performers who are constantly engaged in improvisatory give-and-takes and passionate interwoven conversations, establishing and breaking down each other's beats.
The origins of the chalaparta are shrouded in the same sort of mystery as the Basque language itself. The chalaparta's sound has been connected to everything from galloping horses and successful cider pressings to hill-to-hill communication. "It's a nice symbol: Two people have to play same instrument, have to listen and respect other, to do one positive thing. The music doesn't belong to one or the other," Martinez reflects. "It can represent nicely the meeting point of different cultures and people. And it gives us another way to express that we Basques want to exist as part of this plural world, to give another color to the world."
The chalaparta nearly died out, leaving a mere four players (two sets of brothers) by the 1960s. Thanks to a cultural revival movement, however, the instrument gained a new lease on life, and by the 1990s, was being taught regularly to interested students.
The chalaparta's near brush with extinction means musicians can do almost anything, and be doing something radical. "It's a young instrument, and anything you do is new," Martinez muses. "You feel very close to the development, and by building it yourself, you also get very close to the instrument."
Nomadak Tx is a project that included a recording, documentary film, and now live multimedia performances. Listeners get a glimpse of Oreka Tx's epic journey to the Sahara, the Arctic, the Subcontinent, and the steppes via images and sounds interwoven with live musical performance.
The musicians of Oreka Tx played with a throat singer from the reindeer-herding Tsaan of northwestern Mongolia, related to the Tuvans just across the border in Russia. They worked with Saharawi musicians in refugee camps in Algeria, facing displacement and hardship after Morocco's invasion. They made music with Adivasi musicians in remote, overlooked corners of India.
And wherever they went, they made a chalaparta from local materials that defined the nomads' lives. They carved planks of ice with the Sami of Lapland. They struck stones in the Sahara, to reflect the desert's power.
These innovations not only helped them connect with musicians on their travels, but changed the way they performed on the chalaparta. "It was so nice to be working with different materials like ice," Martinez smiles. "The sound is very different compared to wood. You can't hit it hard, so you have to play softer. We didn't just make new songs on our journeys; we made a new approach to playing."
Buy the CD:
Author:
World Music Central News Department
World music news from the editors at World Music Central