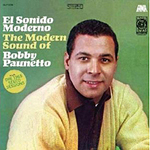 Latin Jazz vibraphonist Bobby Vince Paunetto passed away in Bronx, New York on August 10th, 2010,  at the age of 66 from complications of multiple sclerosis. Born in 1944, Paunetto resided at times in the Bronx (New York) and taught at the Berklee College of Music. After being inspired by the great vibraphonist and drummer Cal Tjader, Paunetto found a love for Latin Jazz.
Paunetto recorded several albums El Sonido Moderno (The Modern Sound), Commit to Memory, Composer in Public and Reconstituted to name a few. Paunetto was busy in the music scene until the 1990s.
Paunetto recorded with San Francisco Bay Area's Tom Harrell; legendary New York Latin bassist Andy Gonzalez (Conjunto Libre); conga drummer and Latin jazz trumpet player Jerry Gonzalez, brother of Andy; and the late timbales legend Manny Oquendo (Tito Puente, Eddie Palmieri's La Perfecta Band and Conjunto Libre fame).
Paunetto's inspiration will be appreciated and greatly missed.
Author:
Les Moncada
Les Moncada is a Latin Jazz orchestra leader and conguero for over 40 years. He was born in Oakland, California and currently resides in Sacramento, California.
Les Moncada is a student of conga and batá master Francisco Aguabella, a friend of the late promoter Bill Graham, vibraphonist Cal Tjader, Latin Jazz band leader Pete Escovedo, conguero Mongo Santamaria and many, many more.
He has been writing for many years for World Music Central.
Les has several Facebook sites: Timbales and Congas Bongo Bata & bells; Conguero, Professional Conguero & their Instrument; Bongocero, Professional Bongocero their Instrument; Alambres Dulces, Tres, Cuatro & Laud