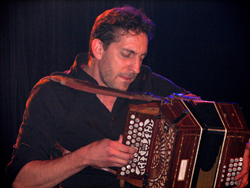 Sunday, July 11th was the last day of the Førde Folk Music Festival. One of the big sensations of the festival was accordion supergroup The Samurai, who played at noon at Teatersalen hall in Førdehuset.
The five members of The Samurai specialize in the diatonic accordion (also known as melodeon or button box). They got together for the first time on May 17th of 2010 in France and played their first public show only four days later at Les Joutes Musicales de Printemps in Correns (southern France).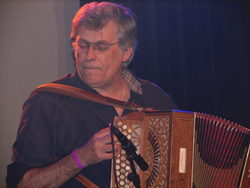 The line-up of The Samurai includes Frenchman Bruno Le Tron, Belgian musician Didier Laloy, the reputable veteran Riccardo Tesi (Italy), West Mayo-style Irish accordionist David Munnelly, and former Värttinä member Markku Lepistö. "I've never played with any of them before except Tesi, whom I know very well," said Lepistö in an article by Wif Stenger published in This is Finland. "He was one of my teachers at the Sibelius Academy.
There are some similarities between our traditional Italian and Finnish styles, similar melodies like mazurkas and waltzes…It's a great adventure, a new kind of experiment. During the concerts we'll play in various combinations, including solos and duos. No backing instruments, though: each accordion is a whole band!"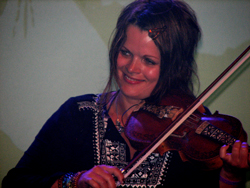 There were quite a few other concerts on the plate that day, but I had to catch a bus to Bergen to fly back home.
Several of the international delegates shared their impressions about the Førde Folk Music Festival with World Music Central. "For me, there were a few performances that were really exciting," said Aleksandra Kminikowska of The Baltic Sea Cultural Centre in Gdansk (Poland). "From Norway, it was Annbjørg Lien and Bjørn Ole Rasch. At first, it didn't look very interesting to me, but when I heard them and the sound that they produced on the stage it was like wow, there are only two people, with violin and organ and they sounded like many people on the stage so it was a brilliant performance and then the lovely tunes, so that was one of the best performances in the festival.
Also the band from Iran, the Kurdish family, the Kamkars. They were great! A lot of energy and I felt that it's more traditional, it's not music for tourists…I think it's a good idea to listen to them and see them on stage and see how the things are really going so it was very interesting. "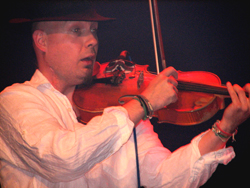 "I would also like to mention the special project I was involved in, Tindra (Norway) and Kroke (Poland)," added Kminikowska. "It was a kind of exchange of the cultures and it was really great because the elements that they use, the music both bands put together told new things and made it happen. It was really exciting for me."
Another perspective about the festival highlights was provided by Roger Bouwens of Cultureel Centrum Leopoldsburg (Belgium). "A few of the groups, the big names, I already knew so I didn't always go to see their concerts. Groups like the Irish group Altan, and Boban i Marko Markovic Orkestar of course are big names and they present good concerts," said Bouwens. "The most surprising project was the concert with Kroke and Tindra, which was very nice and enjoyable concert to attend. I've good hopes for The Samurai. We saw a brief one piece yesterday night and I think it's going to be a nice concert with these five accordionists."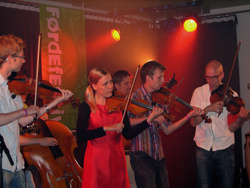 "
The concert of the gala evening was very nice," continued Bouwens. "You have an impression of the whole festival because you don't have the time to watch them all. I was surprised by Lars-Ánte Kuhmunen band, the Sami yoik singer. I knew a few others, but this is very accessible. I think it's nice to do something with this band too. I still look forward to see the Orquesta Chekara Flamenca today because I already know the band. It's very enthusiastic, a good gig. And the Kamkars from Kurdistan. I think was also a very good concert. About the rest, I don't actually have concerts I didn't like. Some smaller concerts were not really ripe enough to be on the bigger stage, but I really enjoyed the whole of the festival and the concerts so for me it was a very nice experience."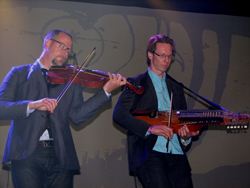 The international delegation included Paul Petran, producer and presenter of "Music Deli" at ABC Radio National in Melbourne (Australia). "Two days of sightseeing and travel by bus, train and boat through some of Norway's most amazing mountain and fjordlands provided an inspiring introduction to the country, its people and its culture which then led us to the Forde festival," said Petran. "The festival provided four nights and three days of performances from some of Norway's best folk musicians together with performances from high quality artists from round the world.
Highlights included Norwegians Annbjørg Lien and Bjorn Ole Rasch; the concert by Swedish trio "Vasen"; Gjermund Larsen Trio – also from Norway; the five button accordion players of The Samurai; the high energy Norwegian/Finnish fiddle band Frigg; and the regular supply of beautiful Norwegian hardanger fiddle music.
"As we traveled through the mountains alongside beautiful waterways, the sounds of the hardanger fiddle seemed to lift out of the mountains and the water," reflected Petran. "It was the perfect accompaniment to our amazing journey through western Norway."
The Førde Folk Music Festival takes place in multiple locations in and around the town of Førde. Petr Doruzka, music journalist from the Czech Republic, shares his impressions: "Looking back at the fjord trip, one of the highlights were our guides, very personal, knowledgeable, and – what is very important – with a good sense of poetry. After the first day, which was very hectic, the evening performance in the church close to the Kviknes Hotel was a perfect finale."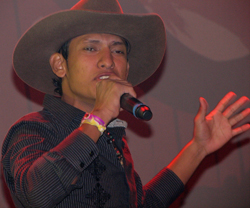 "And as for the festival: I was to dozens of international events during my career, but nothing compares to Førde," Petr reflects. "The festival works in many layers: first you have the selection of artists, but then you present them in different settings, and create several completely different scenarios. Once, in a "marathon" in short sets in the main hall, then in a relaxed and intimate full concert in the theatre.
But for me, the most powerful experience was the first night, a set of very informal gigs in a wooden museum (and outside) about 20 km from Førde, with food, drinks, and little rain. That's how music was played in the good old days, and it was much more powerful than attending a concert staged at some current mega-festival. Førde Folk Music Festival's strength is in two facts: it's a festival with human dimensions, and it's a labour of love."
Marek Garztecki, Programme Director of "Cross Culture Festival" in Poland appreciated the community participation in the festival. "My observations from Norway are of two kinds. On personal level I had a chance to listen to more Norwegian music than in all my previous life and I found it an important educational experience. That is, I started to really appreciate it.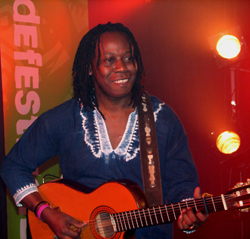 On a professional level I found the whole concept of Førde Folk Music Festival very interesting and I do intend to "steal" a few ideas from it. The most important was the level of involvement of the local community in the whole festival – it was a much more a family event then just a series of concerts, where the audience sits, listens, sometimes clap and then goes home. Especially performances in intimate surroundings like museums and Skansen-type villages.
In short: I intensely enjoyed the whole event. Pity I will be too far now to attend it for the next four years."
The Førde Folk Music Festival was a great experience for me. The visit to the fjords was spectacular and the music program was excellent. I was impressed by the efficiency of the production team and the stage technical crews. On behalf of world Music Central I would like to thank Hilde Bjørkum, Director of the Førde Folk Music Festival and her team: Torill G. Faleide, information and marketing manager, and festival producer Gro Rukan.
Our appreciation goes to our generous hosts Inger Dirdal of Music Export Norway; Aslak Oppebøen of the Norwegian Information Center; and Moe Trond Stenseth of the Norwegian Agency of traditional music and dance.
And a big hug to our tour guides Synnøve Bjørset; Laila Immel, from the Destination Aurland- Flåm -Laerdal tourism office; and Øystein Wiger.
All photos by Angel Romero
Author:
Angel Romero
Angel Romero y Ruiz has been writing about world music music for many years. He founded the websites worldmusiccentral.org and musicasdelmundo.com. Angel produced several TV specials for Metropolis (TVE) and co-produced "Musica NA", a music show for Televisión Española (TVE) in Spain that featured an eclectic mix of world music, fusion, electronica, new age and contemporary classical music. Angel also produced and remastered world music albums, compilations and boxed sets for Alula Records, Ellipsis Arts, Music of the World.