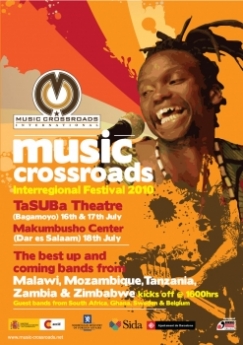 The Music Crossroads InterRegional Festival is taking place between the 16th – 18th of July 2010 in Tanzania, bringing together the best up-and-coming artists from Malawi, Mozambique, Tanzania, Zambia and Zimbabwe as well as special guests from around the world.
This year's edition of the African sound clash features three days of entertainment starting at the TaSUBa Theatre in Bagamoyo a beautiful seaside town, with international showcases by outstanding new artists from Belgium, Ghana, Norway, South Africa and Sweden along side local Tanzanian favorites.
The second day brings the highlight of the Festival – The Music Crossroads IRF Grand Finale – southern African's premier music competition for up-and-coming bands. For the final day of the IRF, the festival moves to Makumbusho Cultural Centre in Dar es Salaam, for a chill-out concert featuring performances by all Music Crossroads bands plus international and local musicians.
Music Crossroads InterRegional Festival ensures that all the musicians are under 25, guaranteeing the freshest unseen talent from southern Africa and beyond. The festival is open to all styles of music but is most renowned for its celebration of African heritage, whether pop or rock, jazz or reggae, all artists showcased at the festival pulsate a spirit and feel that is undoubtedly African.
Each band has been selected through a gruelling series of local and national competitions to arrive at the InterRegional Festival where they will represent their country. The winner of the festival will walk away with an all-expenses-paid European Tour in 8 different countries, an album recording as well as management and promotion by the Music Crossroads International team.
Music Crossroads is today recognised as the official launch pad for young African musicians. Past winners include Kapa Dech (Mozambique), Afrikali (Tanzania), Tikhu Vibrations and Body, Mind & Soul (Malawi), Bongo Love, Liyana and Mokoomba (Zimbabwe) and last year's winners Nyali from Zambia to name a few.
For the musicians this is also not only a great festival, but a chance for them to change their lives and that of their communities forever. Each Music Crossroads InterRegional Festival includes high level musical workshops as well as several opportunities for young artists to explore the role of music in shaping their societies and addressing some of the most serious issues (HIV/AIDS prevention, gender equality etc) affecting their lives as young Africans.
The festival is free thanks to the funding provided by JMI International. This year's festival is set to be the biggest in the 15-year history of the Music Crossroads program in southern Africa. Each day kicks off around 3pm.
For more information, visit the Music Crossroads website www.music-crossroads.net
Author:
World Music Central News Department
World music news from the editors at World Music Central