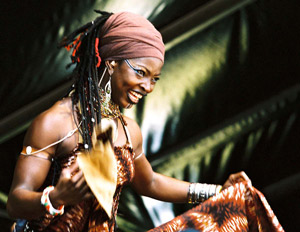 Grammy-winner Dobet Gnahoré, Africa's rising star from the Ivory Coast, comes to Millennium Park's Jay Pritzker Pavilion on Thursday, July 8, 2010, at 6:30 pm. The evening begins with the Chicago debut for Victor Démé from Burkina Faso, West Africa. Admission is free.

Singer, dancer, and percussionist Dobet Gnahoré draws heavily on the traditional music of the Ivory Coast but is creating a diverse, Pan-African pop-influence sound all her own. While performing with the well-known Tché Tché dance company, Gnahoré met French musician Colin Laroche de Féline. The couple formed the duo Ano Neko and toured widely throughout Europe, settling in France following the political instabilities in the Ivory Coast.
Their 2004 album Ano Neko grabbed critics' attention and earned Gnahoré a nomination for Best Newcomer at the 2006 BBC World Music Awards. Gnahoré made her Chicago debut at the 2006 Chicago World Music Festival. This year, she released her third album Djekpa la You on Contre Jour records and won a Grammy Award with India Arie for Best Urban/Alternative Performance for the recording "Pearls." Performing in Bété and other African languages, Gnahoré's warm and powerful voice offers a personal vision of Africa while astounding audiences with her charisma and performance.
Gnahoré performs with Colin Laroche de Féline on guitar and vocals, Clive Govinden on bass and vocals, and Tchango Amontete Kassoung on percussion and vocals.
First on stage, in his Chicago debut, is Victor Démé, a folk and blues singer/songwriter, from Burkina Faso, West Africa, with a program rife with intimate Latin, salsa and flamenco influences on his African melodies. After a 30-year music career in Burkina Faso and the Ivory Coast, the Mandigo singer finally released an album.
Recorded in a small studio in Wagadugu (Ouagadougou), the music showcases Démé's unique voice, his generosity, and his wonderful feel for a good tune that walks a fine line between Mandinka folklore and American blues-folk. Newly "discovered" in his mid-forties, Démé is now on his first tour of the United States with Salif Diarra on kora and Moussa Diabate on bass.
This free concert is part of the Music Without Borders series at Millennium Park. This series features traditional folk music and pop artists spanning four continents – Europe, Africa, South America, and Asia – with nine groups making their Chicago debut at the Jay Pritzker Pavilion. Music Without Borders is supported by grants from the Governor's International Arts Exchange Program of the Illinois Arts Council, The Chicago Community Trust and Radio M. United Airlines is the official airline and the Fairmont Chicago Millennium Park is the official hotel of Music Without Borders.
Buy recordings by the artists:
Dobet Gnahoré:
Victor Démé
More at Dobet Gnahoré
Author:
World Music Central News Department
World music news from the editors at World Music Central