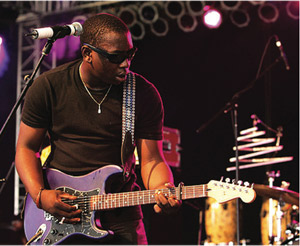 With international acclaim still pouring in from his second full-length, Fondo—one of iTunes best World Music albums of 2009, and a staple on critics' year-end pick lists as chosen by the Wall Street Journal, The New York Times, The Village Voice and the BBC among many others—Vieux has not only distinguished himself from his famous bluesman father, Malian legend Ali Farka Touré, but begun to transcend the limitations of the world music genre itself. On June 10th, Vieux Farka Touré performed at the 2010 World Cup in Johannesburg, South Africa.
The release of the concert album Vieux Farka Touré Live (Digital: 6/8/10, Physical: 6/29/10) affirms that Mali's young lion has become a legend in his own right, emerging at a crucial point in history, just as the Western world is finally beginning to take notice of West African acts like Amadou & Mariam and Omou Sangare. Not only does Vieux Farka Touré Live capture the excitement of Vieux's World Cup performance, but it confirms what tens of thousands of music fans around the world already know: Vieux Farka Touré's live show is championship-caliber.
Though Vieux' rise to the top has happened fairly rapidly, he's paid his dues every step of the way. In 2005, his eponymous debut album, Vieux Farka Toure, established him as an up-and-coming talent and symbolically represented the passing of the torch from father to son. A 2007 remix album, Vieux Farka Toure Remixed: UFOs Over Bamako, recontextualized Vieux's trance-inducing, bluesy style into an electronic dance format, introducing the guitarist to international audiences. After signing with American-based world music label Six Degrees, Vieux released his breakthrough sophomore effort, Fondo, in 2009.
Unanimously hailed as one of the best contemporary African music releases of the year, Fondo saw Vieux emphatically emerging out of Ali's shadow with excursions into jam-rock and electronic virtuosity, fused with the sublime elements of Malian and West African rhythms. Fondo largely made the boundaries between rock and world music immaterial – unlike many African music albums, it didn't require an advanced degree in musicology to appreciate (though that certainly doesn't hurt), just an ear for undeniable grooves and eminently hypnotic rhythms. To its credit, Fondo is as much a "guitar album" as a "world music album," yet it managed to be accessible without catering overly to Western sensibilities.
World tours (and another remix album, Other Roads) followed Fondo's release; with each successive performance Vieux's reputation as a live act grew. Dubbed the "Hendrix of the Sahara," Vieux actually lived up to the comparisons, often ending concerts by playing behind his back or with his teeth.
Fittingly, Vieux Farka Touré Live captures the majesty and flair of Vieux's acclaimed live show in no uncertain terms. Recorded at venues in Australia, San Francisco, and Colorado, the album brings the Vieux Farka Touré experience home for those who haven't yet seen him in concert, and stirs fond memories for those who have. Favorites like "Slow Jam," "Diaraby Magni," and "Cherie Le" all come alive with fluidity and feeling; as a bonus, the traditional song "Maiga," which has never before appeared on album, is included in the set list.
Backed by a band of musicians utterly in tune with the guitarist's musical vision, Vieux Farka Touré Live showcases Vieux's considerable skill as a lead player as well as his uncanny improvisational abilities and resonant vocals. Using Sahara blues as his base, Vieux intricately weaves a musical tapestry tinged with elements of rock, reggae, and funk. Utilizing both acoustic and electric instruments, employing call-and-response and African percussion, he evokes a transcendent mood, which keeps building until it reaches a soul-stirring climax.
It's no small feat to update a musical template established at least as far back as the 14th century (and possibly earlier), or to seamlessly blend the African roots of blues and rock with modernized takes on the form. Yet with every note he plays, Vieux references both his father's legacy and the rich history of Malian music, simultaneously bringing that history into a present-day context. It should come as no surprise, then, that the future of African music has such a strong connection to the past.
Buy the albums: Vieux Farka Touré Live, Vieux Farka Toure, Vieux Farka Toure Remixed: UFOs Over Bamako, Fondo
Watch videos of Vieux Farka Touré at the World Cup celebration:
Author:
World Music Central News Department
World music news from the editors at World Music Central