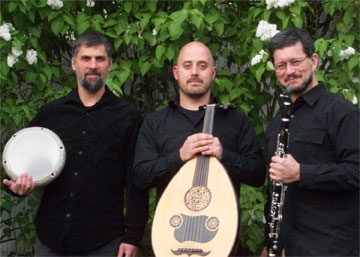 The Okbari Middle Eastern Ensemble makes its Alwan debut Saturday, June 26t, in an evening of Ottoman classical instrumental and vocal music, along with Turkish folk and Arabic contemporary compositions, including original works by their late teacher, Oud master and composer Udi Alan Shavarsh Bardezbanian.
The Okbari Middle Eastern Ensemble has performed at venues throughout New England, the East Coast and the Midwest, including such prestigious institutions such as the Old Town School of Folk Music in Chicago and enjoyed the honor of being invited to perform at the 2009 Chicago Arabesque Festival.
The Ensemble has shared the stage in Istanbul, Turkey with the Kemani Serkan Ensemble and the Rumeli Meyhane Fasil Ensemble. In 2008, Ensemble oud player and vocalist Amos Libby appeared onstage as a guest percussionist with the legendary Gypsy clarinetist Selim Sesler in Istanbul.
with
Amos Libby – Oud and Vocals
Steve Gruverman – Clarinet
Eric LaPerna – Riqq, Duff and Tabla
Saturday, June 26
9pm, doors open at 8:30.
At Alwan for the Arts
Tickets: $15, at door or online (with small service charge)
Author:
World Music Central News Department
World music news from the editors at World Music Central