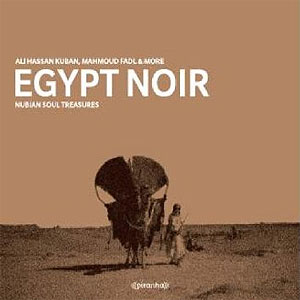 Egypt Noir – Nubian Soul Treasures is a collection of the icons and innovators of Egypt's Nubian music and their songs of life, love, and loss. The Godfather of Nubian grooves, the late great Ali Hassan Kuban, ushered in this new Nubian era by adding novel instruments like saxophones to the village music of his youth. His contribution is honored by two tracks, as well as a musical tribute to Kuban by his Nubian band.
Kuban rocks side by side with musicians like Sayed Khalifa, performers popular at home but little known internationally. They are joined by the younger, hipper generation who take Nubian sounds in wild new directions. Musicians like Salma and Fathi Abou Greisha, who use their wry wit and a voice of bittersweet beauty to combine Nubian sounds with jazz and Caribbean vibes, all while keeping the Nubian spirit bright as it has been for centuries.
Egypt Noir: Nubian Soul Treasures brings together decades of Nubian urban song, giving an unprecedented overview of the neglected musical achievements of this unsung people. The enhanced CD sports a brand new tribal house mix of Mahmoud Fadl's "United Nubians" and also offers a window into Nubian music's global past and present with a visual tour of the great "Orientalist" paintings of the nineteenth century, images reflecting European artists' sensual vision of Egypt and Nubia.
Buy the album:
Author:
World Music Central News Department
World music news from the editors at World Music Central