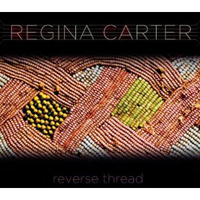 When preeminent jazz violinist Regina Carter made the decision to record an album primarily of African folk tunes, she created a great challenge for herself: how do you take beautiful traditional music and infuse it with a contemporary feel while remaining true to its past – and then, not compromise its beauty? Her newest release, Reverse Thread, released this month on E1 Entertainment responds to the challenge.
Regina added an accordion and kora-the West African harp traditionally played by village storytellers-to her longstanding rhythm section. Kora virtuoso Yacouba Sissoko was brought on board to help recreate the spirit of passing stories from generation to generation.
Without the support of the prestigious MacArthur Foundation, which "awards unrestricted fellowships to talented individuals," Reverse Thread might never have been realized. As a MacArthur Fellow – a recipient of what is commonly known as the "genius grant" – Regina Carter was armed with the funds and the freedom to follow her muse.
Regina turned to the World Music Institute in New York City, in which she found a diverse and inspirational resource for material, including ethnographic field recordings. Regina looked not just to the music, but also the accompanying sounds and nuances of everyday life from anthropological and sociological perspectives which informed the spirit of the new arrangements.
"There is an immense amount of amazing music coming from all around the world, much of which is barely accessible," emphasized Regina. "Reverse Thread gave me the opportunity to explore and celebrate a tiny portion of music that moved me."
Both "Hiwumbe Awumba" and "Mwana Talitambula" are based on field recordings from the Ugandan Jews, a community in eastern Uganda who although are not genetically or historically Jewish, practice the Jewish religion. Setting the inspirational tone for the album, the first track "Hiwumbe Awumba" originates from a field recording of a group singing, "God creates and then He destroys." Although the title is dark, the uplifting quality and spirit of the voice on the recording inspired Regina, and the final arrangement is a paean to the resiliency of the human spirit.
Using the field recording of a woman singing "Mwana Talitambula" as a departure point, Regina's bass player Chris Lightcap split the melody between the violin and bass with a hypnotically emotive result.
Reverse Thread also embraces music of the African Diaspora. As but one example, "Un Aguinaldo" skilfully layers the rhythmic aspects of African music with harmonies originating in India and Puerto Rico.
Through her albums, incessant touring and various guest appearances and collaborations, Regina has developed into a distinctly diverse musical personality. She has repeatedly toured throughout the world, was the first jazz artist and African American to play Niccolo Paganini's famed Guarneri "Cannon" violin, has been featured with several symphony orchestras and performed with artists as diverse as Aretha Franklin, Lauryn Hill, Billy Joel, Kenny Barron and Mary J. Blige.
The line-up on Reverse Thread includes Regina Carter on Violin, Yacouba Sissoko on Kora, Adam Rogers on Guitar, Will Holshouser & Gary Versace on Accordion, Chris Lightcap & Mamadou Ba on Bass and Alvester Garnett on Drums & percussion.
Buy Reverse Thread.
Author:
World Music Central News Department
World music news from the editors at World Music Central