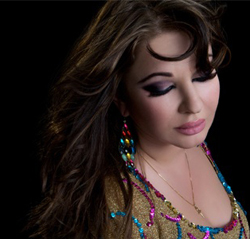 Hay Festival 2010 will be held Thursday 27 May to Sunday 6 June in Hay on Wye, in Wales. The festival will present an eclectic line-up of artists, DJs and musical aficionados. Live performances on-site include sets by World and Folk music superstars such as Toumani Diabate, Laura Marling, Bonobo and Natacha Atlas, while Hay's very own club night series, Sound of the Baskervilles, will make sure you are dancing into the wee hours as some of the most exciting world musicians and DJs take to the stage each night.
Critically acclaimed folk singer Laura Marling plays a live concert off the back of her new album, I Speak Because I Can; Arabic diva Natacha Atlas fuses Arabic with Western classical music in her singing; the superstar trombonist Dennis Rollins plays his concert Musical History of the African Diaspora ; Ninja Tunes DJ and producer Bonobo brings his trip-hop heavy beats to the stage; Malian icon Toumani Diabate provides his unique brand of kora-infused melody while paying tribute to his old recording partner Ali Farka Touré; folk singer Thea Gilmore uses her visceral voice to wow the crowds.
Sound of the Baskervilles, Hay's after-hours club night series, plays host to much-loved and under-the-radar DJs and musicians: Balkan beats with Chavo & DJ Kobayashi; RIO ROX Sound System will play a set of rocking Brazilian music; cross-cultural mash-up from DJ Favaad Iqbal.
Brecon Jazz presents the Paris Project: a mesmerizing collaboration between French jazz star Erik Truffaz and Los Angeles beatboxologist Sly Johnson. Hay Festival has taken over the staging of this year's Brecon Jazz Festival which takes place on 6, 7 & 8 August 2010.
For more information; details of the program and tickets go to www.hayfestival.com
Author:
World Music Central News Department
World music news from the editors at World Music Central