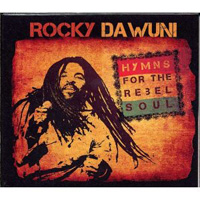 Rocky Dawuni
Hymns for the Rebel Soul (Aquarian Records 005, 2010)
"Afro Roots Music 4 Global Consciousness" states the inner cover of this CD, and I suppose that's about as good a description as you're likely to find for its tasty blending of roots reggae with African tradition, pop, soul and hip hop. Rocky Dawuni is from Ghana but Hymns for the Rebel Soul was recorded mainly in Los Angeles (plus one track in his homeland, one in Israel and one in Finland, which I guess partially accounts for the "global" portion of that opening quote), and his voice and overall sound remind me at times of the reggae side of late Nigerian great Sonny Okosun.
Dawuni doesn't come across quite like anyone else, though. The way the opening "Download the Revolution" hits your ears in conscious, topical and humorous style all at once is proof of that, and it's not the only track here that'll get deep into you. "Extraordinary Woman" is just the sort of song that reggae-shy radio programmers ought to get an earful of, "Master Plan" churns like a less caustic take on Afrobeat, "Freefall" and "Heads Up High" pit Dawuni's impressive falsetto against stinging, swinging arrangements to the benefit of all, and the absolutely gorgeous "Jerusalem" blends reggae riddim, Hebrew modality and unifying lyrics that add up to a piece of music every bit as anthemic as the Alpha Blondy song of the same name.
The year is not yet half over, but Hymns for the Rebel Soul already looks likely to take the prize for 2010's high point in African reggae. Get it without hesitation.
Author:
Tom Orr
Tom Orr is a California-based writer whose talent and mental stability are of an equally questionable nature. His hobbies include ignoring trends, striking dramatic poses in front of his ever-tolerant wife and watching helplessly as his kids surpass him in all desirable traits.