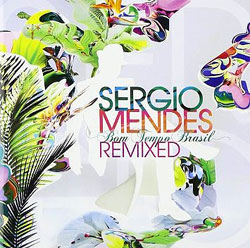 Renowned Brazilian musician Sergio Mendes will be releasing two album on June 1st, 2010. Bom Tempo Brasil is a collection of remixes of his new album Bom Tempo, which push Sergio Mendes' original vision and passion to a new level by laying additional shades of soul, funk, electronica and hip-hop onto the maestro's already rich palette. Bom Tempo Brasil is scheduled for a simultaneous June 1st release on Concord Records along with Bom Tempo.
There's plenty of energy from the get-go, as producer Paul Oakenfold puts a thumping groove underneath the Afro-Brazilian beat of the lead-off track, "Maracatu Atomico." The result is an urgent backbeat that propels Seu Jorge's spirited vocals to an almost hypnotic level. Oakenfold is back much later in the sequence, adding a layer of sheen to vocalists Nayanna Holley and Carlinhos Brown in their delivery of "Emorio," a composition that tips its hat to earlier Mendes hits like "Mas Que Nada" and "The Frog."
Chuckie remixes and re-imagines "Ye-Me-Le," the title track to Mendes' 1969 Verve recording. The track positions the vocal work of Gracinha Leporace (Mendes' wife) and Katie Hampton atop a churning undercurrent that flirts with numerous effervescent crescendos before slipping into an understated fadeout.
Roger Sanchez puts a frenetic spin on "Pais Tropical," a Jorge Benjor composition that Mendes first borrowed for his 1971 album of the same name. In this outing, Sanchez wraps the rhythm around a virtual chorus of vocalists: Leporace, Hampton, Mendes, Jessica Taylor and Kleber Jorge.
In "Waters of March," producer Paul Harris injects the Jobim classic with a persistent and intriguing electro-African beat that underscores the mesmerizing work of Afro-Belgian vocalist Zap Mama (aka Marie Daulne).
Marc Jackson Burrows and Lee Dagger – otherwise known as Bimbo Jones – bring a fresh perspective to Stevie Wonder's "The Real Thing" by positioning Hampton's lead vocals in a tight arrangement of keyboards, horns and percussion. "When I met the 20-year-old DJ guys Bimbo Jones in London, they were totally into watching YouTube videos of Brasil '66," Mendes recalls. "It just goes to show you that Brazilian music has a universal appeal and it is timeless."
Olivia and Miriam Nervo close the set by taking Mendes' iconic1966 hit, "Mas Que Nada," to an otherworldly place with countless layers of pulsating electronic effects, a stunning, adventurous take on a Brazilian classic.
Buy the two new albums: Bom Tempo and Bom Tempo Brasil. Other recordings available: Timeless, Encanto, Brasileiro, Look Around, Sergio Mendes & Brasil '66 – Greatest Hits
Author:
World Music Central News Department
World music news from the editors at World Music Central