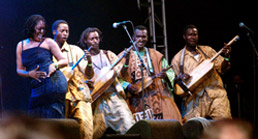 Mali's ngoni superstars Bassekou Kouyate & Ngoni ba will be returning to the UK to perform at this year's Glastonbury festival (on the West Holts Stage, formerly the Jazz World Stage); it will be their debut performance at the legendary festival. They will also perform in Coventry, Kendal and Dartington, and at London's Barbican Centre.
Bassekou Kouyate who has just picked up a KORA Award for Best African Traditional Artist, has also been nominated in the Best Artist category at the Songlines Music Awards 2010, for the album 'I Speak Fula'. The Songlines Music Awards recognise outstanding talent in world music and are voted by Songlines readers and the general public. The final nominees are the top four in each of the four categories (Best Artist, Best Group, Cross-Cultural Collaboration and Newcomer) from the public vote. One of Bassekou's songs is included on a compilation CD which features tracks from all 16 nominated artists across the four categories. The winners will be announced in the June issue of Songlines, on sale from 30 April.
The last few years have seen Bassekou Kouyate being catapulted to the top league of world music stars. His debut album 'Segu Blue', released in 2007 by Munich-based label Out Here Records, received critical acclaim and won the band the coveted honor of performing on the 'Later with Jools Holland' TV show on BBC 2, as well as two BBC Radio 3 Awards for World Music (Album of the Year and Best African Act).
Bassekou transformed the traditional music of the ngoni for the modern world and his band's sophomore effort, 'I Speak Fula' (released by Out Here Records on 21 September 2009 in Europe), conveys the energy and infectious intensity of the band's live performances. Unsurprisingly, this album also received widespread critical acclaim and in October 2009 Bassekou performed on 'Later with Jools Holland' for the second time, alongside Yoko Ono, Smokey Robinson, The Dead Weather and Basement Jaxx.
After their success in Europe, Bassekou Kouyate & Ngoni ba are currently making serious waves in the US where they are on a mammoth tour of over 60 dates, from Maine to Los Angeles – knocking out audiences everywhere. For the first six weeks, they toured with banjo player Bela Fleck and his Africa Project, on the heels of two Grammy wins for Fleck's 'Throw Down Your Heart' album, which includes Bassekou on the title track. The tour has included several additional collaborations, including Taj Mahal singing with the band in San Francisco, and performances with guitarist Bill Frisell at the Savannah Arts Festival, with lots of raves in the press, radio and TV appearances. (Please see below for the remaining US dates.)
'Segu Blue', the debut album of Bassekou Kouyate & Ngoni ba, had already laid a solid foundation for Bassekou's reputation with African music fans in the US (where it was released via Out Here Records/ Forced Exposure). Just in time for the US tour Out Here Records announced a new label partner in the U.S.: Seattle-based indie rock label Sub Pop has now licensed and released Bassekou Kouyate's second album 'I Speak Fula'. It is the first release on their newly founded sub label Next Ambiance, a collaboration between Sub Pop Records and Jon Kertzer, presenter of the 'Best Ambiance' show on Seattle-based public radio station KEXP.
"I've listened and learned so much from Jon's show for half of my life," states Jonathan Poneman who co-founded Sub Pop Records in 1988 with Bruce Pavitt. "It just seemed natural to put his knowledge, resources and remarkable taste to further use. Our first release with Bassekou Kouyate and his incredible band Ngoni ba is the perfect way to begin this new adventure. Their album 'I Speak Fula' captures this truly original music, like nothing you have heard before."
Sub Pop was the original home to such legendary bands as Nirvana, Soundgarden and Mudhoney, and has enjoyed more recent success with such artists as The Postal Service, The Shins, Iron & Wine, Band of Horses, Flight of the Conchords and Fleet Foxes. Initially, Sub Pop/Next Ambiance will be putting out only few releases, partly because – as the label states – "it's going to take a particularly brave artist or artists to follow Bassekou!" Sub Pop/Next Ambiance will release also release the album in Australia and New Zealand.
Bassekou Kouyate & Ngoni ba – Live in the UK:
Saturday, 29 May, doors open 6pm
Rhythm Festival, Taylor John's House, Coal Vaults, Canal Basin, Coventry CV1 4LY, http://www.thetinangel.co.uk
Tickets: £15, online from http://www.wegottickets.com/event/68373
Sunday, 30 May, doors open 7.30pm
Brewery Arts Centre, Highgate Kendal, Cumbria LA9 4HE, http://www.breweryarts.co.uk
Tickets: £15 / £14 conc / £13.50 fob, online from http://www.Tickets.com
Box office: 01539 725133
Saturday, 26 June (West Holts Stage, 2.45-3.45pm)
Glastonbury festival, http://www.glastonburyfestivals.co.uk
Sold out
Saturday, 26 June (acoustic headlining performance by Bassekou Kouyate & Amy Sacko, approx 9:30pm)
Home (one-day festival of acoustic music & song from around the world), High Cross House, Dartington Hall, Totnes, Devon TQ9 6ED, http://www.dartington.org/arts/home-festival
Tickets: £tbc
Box office: 01803 847070
Friday, 2 July, doors open 7:30pm
Blaze festival, Barbican Centre, Silk Street, London EC2Y 8DS,
Tickets: £12.50/ £15/ £18/ £22.50, book online from http://www.barbican.org.uk
Box office: 020 7638 8891
Buy Bassekou Kouyate's releases:
Author:
World Music Central News Department
World music news from the editors at World Music Central