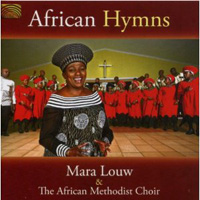 Mara Louw & the African Methodist Choir – African Hymns (ARC Music EUCD 2249, 2009)
Soweto Gospel Choir – Grace (Shanachie 66043, 2010)
There's a decided lack of joy in some of the so-called joyful noise that's made unto the Lord, but that's not usually a problem when it comes genuine gospel music. It's certainly seldom a problem with African gospel music, and in the particular case of South Africa, where music of even the most spiritual sort was (and is) a weapon against injustice, a high joy quotient is a given.
Apart from occasional hand claps, foot stomps and other rudimentary rhythmic accompaniment, the African Hymns presented by Mara Louw & the African Methodist Choir are acapella songs sung in the Sotho and Xhosa languages of South Africa's Soweto Township, from which Louw hails.
Passionately angelic male and female voices testify their way through hymns of praise, worship and faith rich in African and European vocal traditions, building in power and glory to a concluding "Nkosi Sikelel'i Afrika" (God Bless Africa), one of the most enduring freedom songs extant. Soothing and stirring, African Hymns will raise your spirits and probably a roof or two.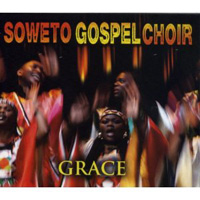 A far broader approach is taken by the award-winning Soweto Gospel Choir on their latest CD, Grace. About the only thing it has in common with the African Hymns disc is that both were produced by Robin Hogarth, who states in the liner notes of Grace that the songs are "not necessarily all religious" but rather "refer to beauty, grace and the spiritual." (Can I get an amen?)
Call it commercial if you like, but this outfit's blend of pop, classical and operatic re-interpretations, traditional songs, African grooves and peppy pieces that wouldn't sound out of place in a production of "The Lion King" is plentifully pleasing on both a spiritual and purely musical level. Whether singing alongside only percussion or a full band, these voices soar, inspire and reach for the skies on such familiar (but never merely copied) tunes as "Ave Maria," "Bridge Over Troubled Water" and "Put your Hand in the Hand" in addition to a host of African-rooted songs and unusual but inspired offerings like a cover of Little Feat's "Voices on the Wind."
Worldwide acclaim and rubbing elbows with some rich and famous folks apparently haven't compromised Soweto Gospel Choir's humble, down-to-earth approach, and they sound heavenly here.
Buy the recordings:
Author:
Tom Orr
Tom Orr is a California-based writer whose talent and mental stability are of an equally questionable nature. His hobbies include ignoring trends, striking dramatic poses in front of his ever-tolerant wife and watching helplessly as his kids surpass him in all desirable traits.