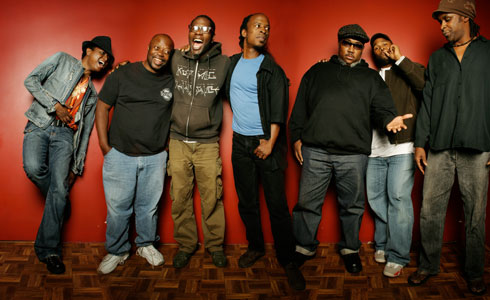 Kenyan funk master Sila Mutungi outshone such notable competition as Zap Mama and Omou Sangare at the 41st Annual NAACP Image Awards to take home the prize for Outstanding World Music Album. Sila and the Afrofunk Experience's second album Black President was recognized as the top entry in the genre for 2009, a notable achievement and something of a surprise for the San Francisco-based artist and Kenyan native, who released the album independently on his own Visalia label.
Sila joins other NAACP Image Award winners Wynton Marsalis, BeBe & CeCe Winans, Mary J. Blige, Whitney Houston, the Black Eyed Peas, Maxwell, and Keri Hilson for the music categories. The awards were announced on February 26, 2010.
"This is beyond my wildest dreams," said Sila. "As a boy growing up in Kenya, I could only imagine having a successful career in the music industry, and to win in this category over artists like Zap Mama and Omou Sangare, who have helped bring African music to American and international audiences for so many years, is something I will never forget."
In his acceptance speech, Sila noted the impact of the election of Barack Obama (who inspired the album's title) on his homeland, and its importance to Africa in general."In these times, music has to speak the truth more than ever. As musicians and artists, we have to promote social change all over the world."
It was likely that same conviction and dedication to humanitarian issues which swayed Image Award voters. Besides the unquestionable relevancy of Black President's title track, the album tackled such topical and weighty issues as refugees, female beauty ideals, and global politics, with an original and funky Afropop sound influenced by both Fela Kuti and James Brown. The Image Award caps a remarkable outpouring of critical acclaim for Sila and the Afrofunk Experience and Black President. In addition to the band being named "Best International Act" by SF Weekly, the album was among the Top 5 African releases of 2009, according to IPR's "Afropop Worldwide."
The co-founder of the Afro Funk Music Festival, an annual happening benefiting educational and health-related efforts in Africa, Sila has also been at the forefront of the Bay Area's relief efforts for Haitian earthquake victims. He headlined "SF Hearts Haiti," a sold-out show which raised 10K for disaster aid.
Celebrate Sila's victory March 20th at the Great American Music Hall at the official Black President Victory Party. Tickets are $14; a portion of proceeds will be donated to Chilean earthquake victims.
Author:
World Music Central News Department
World music news from the editors at World Music Central