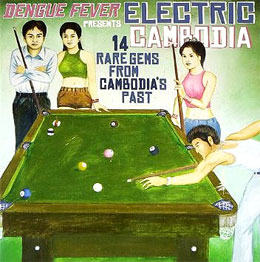 Various Artists
>Dengue Fever Presents: Electric Cambodia (Minky Records, 2010)
Dictator and all around bad guy, Pol Pot, along with his bloody band of Khmer Rouge thugs, seized total control of Cambodia in 1975 and all those seen as profane by the regime – people like intellectuals, artists and musicians – were driven from the cities, whisked off to face torture , starvation and death in the various camps scattered throughout the countryside. Cambodia's music was intended to expire along with its artists, but there was something that Pol Pot didn't count on. That clever little gadget was the audio cassette and recorder.
Thanks to countless hands that secretly passed cassettes and dubbed the recordings, fourteen tracks of Cambodia's 1960s and 1970s pop and rock tracks survived and are now available on the Minky Records label. Surf pop and rock group Dengue Fever, along with the Cambodian Living Arts  have put out Dengue Fever Presents: Electric Cambodia, 14 Rare Gems from Cambodia's Past. Proceeds from the sale of this CD will go to the Cambodian Living Arts foundation, a project of the Massachusetts- based non-profit Marion Institute whose mission it is to preserve and protect Khmer performing arts.
Electric Cambodia is indeed full of lost gems. Dara Chom Chan's dishy vocals set alight opening track "Give Me One Kiss," while Pan Ron's "Don't Speak" fairly vibrates with the '60s twangy guitar surf sound. "Jombang Jet" is a masterpiece of the era with slick drumming and Carlos Santana-esque guitar licks against Ms. Ron's vocals. Ros Sereysothea offers up the plumy numbers "Flowers in the Pond" and "Shave Your Beard" and all I can say is take that Nancy Sinatra and Leslie Gore. Included on Electric Cambodia is Ms. Ron's "I Will Marry You" and Ms. Sereysothea's "I Want to Shout," a Cambodian salute to the Isley Brothers' 1959 single "Shout." Other tracks of note include "Hope to Meet You" by an unknown artist, "Snaeha" by Ms. Ron and a flashy number without a title also with Ms. Ron.
I'd single out some of the musicians but they remain nameless. Fans will have to content themselves with the fact that these tracks exist at all. The identification of singers Dara Chom Chan, Pan Ron, Ros Sereysothea hinged on the memory of the older sister of Dengue Fever's lead vocalist Chhom Nimol. Dengue Fever bassist Senon Williams explains, "The music on this compilation was anonymous. It was all off crazy mixed tapes. We didn't know who was who."
I simply can't imagine what price was paid in preserving each one of these dubbed cassettes, but I'm eternally grateful for each and every hand that passed on a portion of this compilation. The back story isn't really what makes Electric Cambodia spectacular – it's the music. Another thing Pol Pot didn't count on.
Buy the album:
Buy Dengue Fever's CDs or downloads:
More information at www.cambodianlivingarts.org
Author:
TJ Nelson
TJ Nelson is a regular CD reviewer and editor at World Music Central. She is also a fiction writer. Check out her latest book, Chasing Athena's Shadow.
Set in Pineboro, North Carolina, Chasing Athena's Shadow follows the adventures of Grace, an adult literacy teacher, as she seeks to solve a long forgotten family mystery. Her charmingly dysfunctional family is of little help in her quest. Along with her best friends, an attractive Mexican teacher and an amiable gay chef, Grace must find the one fading memory that holds the key to why Grace's great-grandmother, Athena, shot her husband on the courthouse steps in 1931.
Traversing the line between the Old South and New South, Grace will have to dig into the past to uncover Athena's true crime.