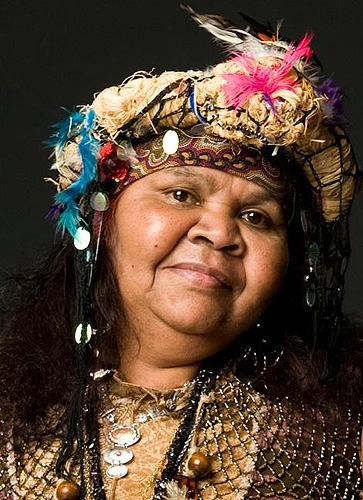 Pioneering aboriginal singer Ruby Hunter died February 17 of 2010 at her home in Victoria (Australia). Victorian Minister for the Arts Peter Batchelor expressed his sadness on hearing of the death of acclaimed indigenous singer. "Ruby Hunter was a woman of great spirit and talent," said Mr. Batchelor. "Through her beautiful voice, she brought Indigenous stories to the forefront of Australian music."
Victoria's Minister for Indigenous Affairs, Richard Wynne, said Ruby Hunter's contribution to Australian music and to bridging the gap between Indigenous and non-Indigenous Australians was unparalleled. "Ruby's collaboration with Archie [Roach], both personally and professionally, led to a unique partnership," Mr. Wynne said.
Ruby Hunter, a proud Ngarrindjeri woman, was born at a billabong (oxbow lake) near the banks of the Murray River in South Australia. When only eight years old, Ruby was forcibly removed from her family and grew up in foster homes and institutions, eventually living on the streets in Adelaide where she met Archie Roach. They are part of Australia's stolen generations.
In 1990 Archie made his first recording Charcoal Lane and one of the album highlights was the song, Down City Streets, written by Ruby Hunter. In 1994 Ruby released her debut album, Thoughts Within and was the first indigenous woman to be signed to a major record label. A second album, Feeling Good followed in 2000.
In 2004, Ruby and Archie collaborated with Paul Grabowsky and the Australian Art Orchestra to produce Ruby's Story, an intensely rich musical experience charting Ruby's search for identity and hope through love. Ruby's Story won the 2004 Deadly Award for Excellence in Film and Theatrical Score. Ruby's songs reflect her personal history. She is firmly established as a unique and powerful voice in Australian music.
Ruby Hunter was part of the contemporary indigenous group The Black Arm Band. The group tours throughout Australia and its mission  is to "perform, promote and celebrate contemporary Australian Indigenous music as a symbol of resilience and hope in the spirit and action of reconciliation."
Ruby's last public performance was at the recent St Kilda Festival, premiering Out and About, a performance of songs inspired by the imagination of children.
The Ngarrindjeri are the Australian aboriginal people of the Lower River Murray Lakes and Coorong wetlands. Ngarrindjeri means The People and they are a group of eighteen clans with similar language dialects and family connections.
Ruby Hunter passed away at her home in Western Victoria. She was 54 years old.
More information is available at www.myspace.com/rubyhuntertunes
Author:
World Music Central News Department
World music news from the editors at World Music Central