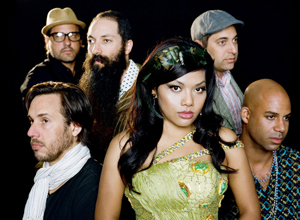 In response to the recent devastating earthquakes to hit Port-au-Prince and its surrounding areas, KCRW Public Radio Station presents and the historic El Rey Theatre hosts a Haiti Relief Concert on Saturday, February 6th in Los Angeles. Ticket proceeds from this night will be donated to Operation USA's Haiti relief efforts.
The worldly line-up on what would have been Bob Marley's 65th birthday includes ska/rocksteady revivalists Hepcat; Cambodian-American indie-rock/world music band Dengue Fever; a very special set by veteran bassist Joey Altruda's Crucial Riddims & Reggae Greats Revue featuring Wailing Souls, Elan, Eljai and special guests; [wiki:cumbia] band Very Be Careful; all-star reggae group The Lions; experimental rock outfit The Tuffingtons; Echodelic Soundsystem; and DJ Miles Perlich. The evening will be hosted by veteran radio DJ Junor Francis and Alexis de la Rocha of Live Daily.
Operation USA is an international relief agency that helps communities at home and abroad overcome the effects of disasters, disease and endemic poverty by providing privately-funded relief, reconstruction and development aid. OpUSA is appealing for donations of funds to purchase health care materials, water purification supplies and food supplements which they will ship to Port-au-Prince, Haiti and its surrounding areas from its base in the Port of Los Angeles.
OpUSA's slogan is "Give and it gets there". And it does, with 98% of every dollar donated going to on the ground relief. That's why The Rockery, organizers of this event, chose OpUSA to receive the funds generated on February 6th. Every year millions of charitable donations never make it to their destination. "When you donate to Operation USA, you immediately start to make a difference in the lives of those who need it most."
Dengue Fever's psychedelic take on the Cambodian pop sounds of the 60s makes them one of rock 'n' roll's most unique success stories. They draw enthusiastic crowds from Los Angeles to the UK, from Maui to Moscow, and leave critics rummaging through their thesauruses looking for new superlatives to describe their sound.
Dengue Fever is Chhom Nimol – who sang regularly for the King and Queen of Cambodia – Ethan Holtzman (keyboards), Zac Holtzman (guitar), David Ralicke (horns), Senon Williams (bass) and Paul Smith (drums). The band's music has been featured in a number of film and television shows including City of Ghosts, Must Love Dogs, Broken Flowers, HBO's hit series True Blood and twice on Showtime's Weeds.
They have released three albums, Dengue Fever, Escape from Dragon House, Venus on Earth and released their DVD/CD soundtrack to the documentary Sleepwalking Through the Mekong on April 14, 2009. They recently released Dengue Fever Presents: Electric Cambodia, a compilation of lost Cambodian classics from the 1960's and 1970's.
The music of veteran bassist/bandleader Joey Altruda features a variety of musicians depending upon the context – from ska, reggae and Latin to jump blues, lounge and beyond. Joey's known for his work with Don "Sugarcane" Harris during the '80s in the band Tupelo Chain Sex and he co-led Jump With Joey with drummer Willie McNeil from 1989-1999.
Over the years Joey has worked with a plethora of legends, including Plas Johnson, Bo Diddley, Joe Strummer, Ernest Ranglin, Jack Costanzo, Ernie Andrews, Rico Rodriguez, Lloyd Knibbs, Mongo Santamaria, Patato Valdez, Chocolate Armenteros and Candido Cameron. With his super group Crucial Riddims, Joey is assembling a Reggae Greats Revue where he will be joined by some of the scenes most talented musicians and singers, paying homage to Jamaican music. Guests will include legendary duo Wailing Souls, long-time Wailers singer Elan, Belizean singer Eljai, Persephone Laird of Ocean 11, and more singers to be announced.
Very Be Careful is a homegrown Los Angeles band that plays Colombian [wiki:vallenato] music, a traditional sound that centers around the accordion, backed with percussion and bass. Members include Ricardo "Ricky G" Guzman on accordion and vocals, Arturo "Brickems" Guzman on bass, Craig "Peabody" Martin on guacharaca, Dante "The Rip" Ruiz on campana, and Richard "Mil Caras" Panta on caja vallenata.
From the streets of Austin's SXSW and Germany's World Cup Tour '06 to the cultural pinnacles of Chicago's Summer Dance Series, New York's Central Park Summerstage, Los Angeles' Grand Performances, Glastonbury Music Festival, and Fuji Rock Festival, to NY's SOBs, Los Angeles's House of Blues and backyard BBQs, VBC has tamed the beasts within or unleashed the ones without.
They have performed alongside Joe Strummer, Alfredo Gutierrez, Antibalas, Carlos Vives, Dub Trio, Grupo Niche, Kronos Quartet, Gogol Bordello. VBC's latest album, Horrible Club (Downtown Pijao 2009), is a collection of bootleg recordings from 1998-2009 and captures the reckless abandon of a VBC show where anything can happen.
The Lions are Los Angeles' premier 12-piece all-star [wiki:reggae] band featuring members of Hepcat, Orgone, Breakestra, Macy Gray's band, The Expanders, Ocean 11, Connie Price & the Keystones and Rhythm Roots Allstars. The result of an impromptu recording session by some of the scene's most soulful and notable musicians and singers, The Lions created grooves that went beyond Jamaican music by combining new and traditional rhythms, and dub mixing mastery with the global sounds of Ethiopia and Colombia.
Their album Jungle Struttin was released on Ubiquity Records in 2008 and they are now releasing songs on their own Lions Bread Records – including the singer/DJ combination "This Generation" and the laid back instrumental "New Girl". Their live set transcends any particular genre but is best described as a healthy mix of vocal and dub tracks, balancing classic reggae and soul cuts as well as new originals. The Lions have had the honor of being the backing band on two occasions for legends The Heptones, and have supported The Aggrolites, Fat Freddy's Drop, Antibalas and Bedouin Soundclash.
The Tuffingtons are a six-piece unit made up of native Angelenos, who have created their own blend of ska and disco, with a couple nods to bands like Television, Madness and Buzzcocks. They have called their music everything from AM punk to island-arena rock. The Tuffingtons are gaining a reputation for their live shows, which usually consist of something like animal 'sacrifice', and there is a very lifelike and life-size puppet. Their shows are better experienced than explained. Their debut full-length record, produced by Jacob Bercovici AKA Mr. Sandwiches (Warpaint, The Lady Tigra) will be out this summer. Their current EP Egregious will be released this February.
Tickets are $25 and will be available starting Saturday, January 23rd at 10am at www.Ticketmaster.com, 1-800-745-3000, select Macy's, all Ritmo Latino stores, and the El Rey's restaurant Cowboys & Turbans. Cowboys & Turbans is open Monday thru Friday from Noon to 9pm and on show nights (cash only). If tickets remain, walk up sales will be available at the El Rey box office, opening at the door time on the night of the event. El Rey Theatre is located at 5515 Wilshire Blvd., Los Angeles, CA 90036. It's an all ages, general admission, standing room only venue.
More information at:
Author:
World Music Central News Department
World music news from the editors at World Music Central