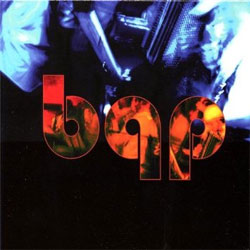 Brooklyn Qawwali Party
Brooklyn Qawwali Party (Brook Martinez Music, 2007)
Okay, this CD's been around for a couple of years, but I got wind of it more recently and wanted to spread whatever word there was left to spread on this band and their sound. The idea is both simple and audacious: songs of the late and legendary Pakistani qawwali singer Nusrat Fateh Ali Khan rendered as primarily instrumental pieces played by a big band of horns, guitar, bass, drums, percussion and two key ingredients -harmonium and hand clapping- taken from traditional qawwali.
Brooklyn Qawwali Party lay on the same kind of intensity that Khan brought to his Sufi Muslim praise music, but rather than the slowly building ecstatic spell cast by Khan and his harmonium-and-tabla-fueled crew of singers, B.Q.P. tend to take a shorter time to go full throttle.
There's only four lengthy songs here, beginning with the familiar "Mustt Mustt," and while the astounding vocals that made Khan the king of qawwali are missed, they're made up for with locked-down grooves and melodies that are as pumped as can be while still remaining true to the source. The pulsating, freewheeling music that results is not unlike Afrobeat, Balkan brass bands or the Ethiopian excursions of Boston's Either/Orchestra.
Devotees of Sufism or undiluted qawwali may cry blasphemy, but those who are open of mind and body will find satisfaction for both. A few overly raucous moments aside, this group is really onto something.
Buy the album: Brooklyn Qawwali Party
Author:
World Music Central News Department
World music news from the editors at World Music Central