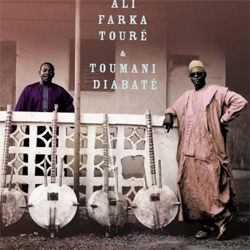 Ali Farka Touré and Toumani Diabaté
Ali & Toumani (World Circuit/Nonesuch Records, 2010)
Drawing the listener close from the opening notes, guitarist Ali Farka Touré and kora player Toumani Diabaté charm and beguile the listener on the duet recording Ali and Toumani, set for release on February 23rd on the World Circuit/Nonesuch Records label. Earning a Grammy Award from the pair's first duet recording In the Heart of the Moon, Mr. Touré> and Mr. Diabaté returned to the studio and, with the help of producer Nick Gold, recorded Ali and Toumani over the course of three days in 2005.
The successful second collaboration would be bittersweet as Mr. Touré, having suffered from a prolong illness, passed away months later. Any evidence of Mr. Touré's illness and suffering simply can't be found on Ali and Toumani. The bright polish of the mastery of these two consummate musicians shimmer, casting sparks as the pair make their way through such tracks as "Ruby," the Cuban salsa tinged "Sabu Yerkoy" and the elegantly worked "Bé Mankan."
Guitar and kora lines weave together and break apart like lines of crystalline light. It is simply impossible to not be utterly charmed as Mr. Touré and Mr. Diabaté play, capturing a kind of youthful enthusiasm, on the Mandé song "Doudou" or the singly wonderful "Sina Mory," thought to be one of the first songs Mr. Touré heard played on the guitar. "Fantasia" is an original work, composed for Ali and Toumani, and the bold sweetness shines right through. Equally wonderful is "Machengoidi," a patriotic song of Mali, and the easy swing of "Kala Djula."
Cleverly placed contributions by bassist Orlando 'Cachaíto' López, vocalist and percussionist Vieux Farka Touré, vocalists Souleye Kane and Ali Mangasa and percussionist Tim Kieper lace the compositions on Ali and Toumani, keeping the overall sound light and polished.
Ali & Toumani is a warm, welcoming wind from Mali, phenomenally good and delightfully refreshing.
Buy the album:
Author:
TJ Nelson
TJ Nelson is a regular CD reviewer and editor at World Music Central. She is also a fiction writer. Check out her latest book, Chasing Athena's Shadow.
Set in Pineboro, North Carolina, Chasing Athena's Shadow follows the adventures of Grace, an adult literacy teacher, as she seeks to solve a long forgotten family mystery. Her charmingly dysfunctional family is of little help in her quest. Along with her best friends, an attractive Mexican teacher and an amiable gay chef, Grace must find the one fading memory that holds the key to why Grace's great-grandmother, Athena, shot her husband on the courthouse steps in 1931.
Traversing the line between the Old South and New South, Grace will have to dig into the past to uncover Athena's true crime.