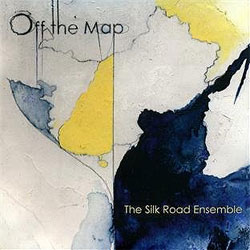 The Silk Road Ensemble
Off the Map (World Village, 2009)
With a worldwide network of master musicians spanning cultures and genres, an innovative musical outreach program and teaching curriculum, as well as stunning recordings such as New Impossibilities, Silk Road Journeys: When Strangers Meet and Silk Road Journeys: Beyond the Horizon, The Silk Road Project has conjured up another spellbinding collaboration to captivate listeners.
Off the Map, out on the World Village label, features new works from composers Gabriela Lena Frank, Angel Lam, Evan Ziporyn and Osvaldo Golijov. Plucking inspiration from well worn musical traditions and instruments Off the Map leaps headlong into the fantastical and blazes a trail to a heady font of new music, a place where imagination knows no bounds.
Off the Map opens with three pieces composed by Gabriela Lena Frank, featuring Wu Man on pipa, Wu Tong on sheng, Colin Jacobsen and Johnny Gandelsman on violin, Nicholas Cords on viola and Eric Jacobsen on cello. Holding onto the threads of her diverse background (an American father and Peruvian mother with Chinese ancestors), Ms. Frank offers listeners the wildly wonderful "Ritmos Anchinos." Colored with influences from South American and the Andes, "Ritmos Anchino" sends the listeners off onto dazzling journey filled brightly worked mix of sheng, strings and pipa. Wu Man's extraordinary joyfulness and expert mastery of the pipa stands out as Ms. Frank's compositions finds the light-hearted sweetness, fierceness and clever playfulness of the instrument.
Finding a darker place on the map, Angel Lam's composition "Spirit Rain" takes the listener on a spiritual journey with Kojiro Umezaki on shakuhachi, Johnny Gandelsman on violin, Eric Jacobsen on cello, Jeffrey Beecher on bass, Mark Suter on marimba and Shane Shanahan on percussion. Deliciously moody in tone "Spirit Rain" fills quiet spaces with deftly worked marimba, shakuhachi, cello and bass. The effect is simply mesmerizing.
"Sulvasutra" is the work of Evan Ziporyn. Working with Sandeep Das on tabla, Wu Man on pipa, Johnny Gandelsman and Colin Jacobsen on violin, Nicholas Cords on viola and Eric Jacobsen on cello, Mr. Ziporyn lures the listener into a mystical chasm, decorated with the lightness of pipa, soaring strings and the wondrous expressions found in Mr. Das's playing. "Sulvasutra" discovers the powerfully dramatic, fantastically edgy and sweeping cinematic parts of Mr. Ziporyn's musical map.
Last, but not least, "Air to Air," composed by Osvaldo Golijov, hosts a whole host of extraordinary musicians that includes Jeffrey Beecher on bass, Nicholas Cords on viola, Jeremy Flower on laptop, Johnny Gandelsman on violin, Joseph Gramley on percussion, Colin Jacobsen on violin, Kayhan Kalhor on kamancheh, Dong-Won Kim on jang-go, Cristina Pato on Galician bagpipe, Bassam Saba on nay, Shane Shanahan on percussion, Mark Suter on percussion, Kojior Umezaki on shakuhachi, Wu Man on pipa and Wu Tong on sheng.
It goes without saying that "Air to Air" attacks the listener with full force. With rich Middle Eastern, Spanish and Eastern touches, Mr. Golijov's composition attacks the senses with pure abandon. Lushly worked and elegantly wrought "Air to Air" glides across the musical map with astonishing grace and fierce passion, conjuring up a mental landscape that is just as elaborate.
Off the Map is sumptuous, magnificent and simply stunning, as if we'd expect anything different from The Silk Road Ensemble.
Buy the recordings:
Author:
TJ Nelson
TJ Nelson is a regular CD reviewer and editor at World Music Central. She is also a fiction writer. Check out her latest book, Chasing Athena's Shadow.
Set in Pineboro, North Carolina, Chasing Athena's Shadow follows the adventures of Grace, an adult literacy teacher, as she seeks to solve a long forgotten family mystery. Her charmingly dysfunctional family is of little help in her quest. Along with her best friends, an attractive Mexican teacher and an amiable gay chef, Grace must find the one fading memory that holds the key to why Grace's great-grandmother, Athena, shot her husband on the courthouse steps in 1931.
Traversing the line between the Old South and New South, Grace will have to dig into the past to uncover Athena's true crime.