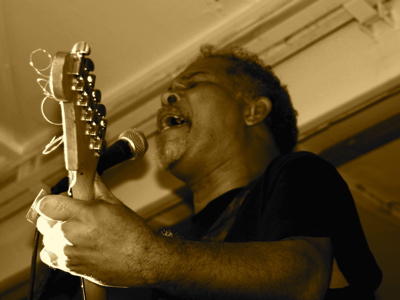 Dominican folk and rock guitarist, singer and composer Luís Días Portorreal, better known as Luís Días and Luis "El Terror" Dias, died December 8 of 2009, in Santo Domingo, Dominican Republic, of a heart attack. Luís Días was an influential musician in both the traditional and contemporary music area. He was known for his bold musical fusions and some call him the Father of Dominican rock. Dias' fusions mixed rock, reggae, jazz and blues with over 40 native rhythms of the Dominican Republic, including merengue, bachata and mangulina.
Luís Días Portorreal was born in Bonao, on June 21 of 1952. His father was a "tres" player and his mother was a singer. In Bonao he studied music with Juan Zorrilla and Tatán Jiménez. At 16 he formed his first band, named Los Chonnys.
In 1970 he moved to Santo Domingo with the intention of studying Psychology. In 1972, Sociologist Dagoberto Tejada encouraged him to join Convite, a band that had the mission of recovering the various traditional rhythms of the island. Convite became a sensation during the period.
In 1978, after Convite was disbanded, he formed Madora, together with Gustavo Moré, Guarionex Aquino, Manuel Tejada, Luis Ruiz, and Wellington Valenzuela. Madora fused jazz with Caribbean folk music.
Luís Días lived in New York from 1980 through 1982, where he taught Dominican traditional music workshops at the American Museum of Natural History. Back in the Dominican Republic, in 1982 he formed the legendary Dominican rock band Transporte Urbano, which mixed a wide range of musical styles, including bachata and heavy metal.
In 1984 Luís Días released his first merengue LP called "Luis 'Terror' Dias". In 1985 he was commissioned with the soundtrack for the movie "Las Pausas Del Silencio" which earned the first place at the Philadelphia Film Festival for Best Music. At the same time, Luis Dias started gaining momentum as a composer of merengues, bachatas and ballads on commission.
He moved back to New York City in the early 90s and collaborated with David Byrne in 1995.The result was a placement of his song "La Casa" in the soundtrack for the film "Blue In The Face" of the same year. In 1998 he released two CDs, "El Accidente" based on his experiences in New York City, and "La Yola", an acoustic collaboration with Lliam Greguez.
In 1999 Colecciones El Europeo, a cultural institution from Spain chose Luís Días' work to release a compilation called Jaleo Dominicao + Homenaje a Luis Dias.
Between 1999 & 2000, Luís Días was the vice-director of Casa De La Cultura Dominicana, an organization responsible for promoting Dominican Culture in New York City.
In 2001 his "Suite Folklorica Dominicana" premiered at the Eduardo Brito Hall of the National Theatre of Santo Domingo to great public acclaim. Later that year he returned to New York City and reactivated his band "Las Maravillas."
His discography includes Convite convida (1974), Areito No. 1 (1984), Luís Terror Díaz (1984), Ae Candelo (1985) , El accidente (1998), Luís Días y Transporte Urbano En Vivo (1999), Jaleo Dominicano + Homenaje a Luís Días (1999), Vickiana Las Sesiones de 1985 (2000) , La Yola (2000), La Suite Folclórica Dominicana (2001), and Radio Macana (2003).
Author:
World Music Central News Department
World music news from the editors at World Music Central