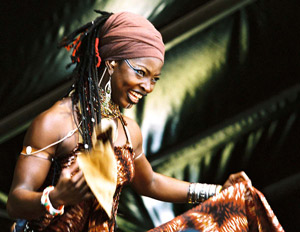 The excited whispers of Dobet Gnahoré's growing fame certainly aren't far-fetched; it has been an astonishing year for the promising African artist with shows all over the world and an extensive tour of the U.S this summer. Her sensual but quirky afro-pop has appealed to people all over the globe and has clearly justified her award for Best Newcomer at the BBC Awards for World Music back in 2006.
Born in '82 on the Ivory Coast, Gnahoré has always had musical blood running through her veins. Her father, Boni Gnahoré, is a master percussionist who plays with the Ki-Yi Mbock Company directed by the Prince Claus Award-winning Werewere Liking. Since Dobet's departure from school at the ripe young age of 12, she has always strived to follow in the pursuit of music.
After having spent some time with the infamous African dance group Tché Tché, Gnahoré and Colin Laroche de Féline, a French guitarist whose partnership with Gnahoré was met through the Ki-Yi Mbock group, decided to create a duo. Sometime later and joined by a new percussionist and back-up vocalist, the stunning debut album 'Ano Neko' featuring incredible tracks like 'Nsielé' and 'Bété Djili' was released.
The second album 'Na Afriki' meaning 'To Africa' was just that. Released in 2007 to much critical acclaim, the album beautifully explored many social and cultural issues in Africa and the world today.
Widespread touring and a residency in France, due to troubles in Ivory Coast, meant that Gnahoré was and is not afraid to address the bigger picture with her lyrics. The epitome of 'think global, act local'; her lyrics never fail to reach out to us all on a global scale.
For those that haven't heard much from Gnahoré before, her style remains true to that of her traditional West Coast heritage, to which strong percussion and vocals dominate the typical and established music found in the Ivory Coast.
Typical, however, is not something you would use to describe Gnahoré and her music. Her style and performance are something else entirely; sung in over 8 different African languages and featuring one heck of a powerful voice, Gnahoré brings an overwhelming display of emotion to her songs. Effortlessly, Gnahoré and her group have the ability to swop from heart-wrenchingly striking ballads like 'Khabon N'Daw' (that features a sublime flute sample) to quirky and fresh afro-pop like 'Djiguene', an ode to the females of Africa.
Even more startling on the other hand, is Gnahoré's live performance. Emanating from her days as an accomplished dancer with Tché Tché, Gnahoré's music is accompanied by an intense and deeply mesmerizing dance. Her almost primitive and invigorating dance moves resemble more of a story than a routine and it results in the audience failing to take their eyes off of her at all during the performance.
The good news is for fans of Gnahoré reading this, according to her management; her eagerly awaited third CD will be available from January next year. Although I expect it won't be massive, I know that anyone that's seen or heard of her so far will definitely be counting down the days.
Buy Gnahoré's CD
Author:
World Music Central News Department
World music news from the editors at World Music Central