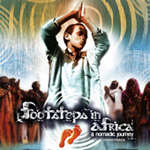 Various Artists
Footsteps in Africa: A Nomadic Journey (Kiahkeya, 2009)
Footsteps in Africa: A Nomadic Journey is the soundtrack to a documentary film by director Kathi von Koerber, marking a road trip through the Sahara desert of Mali about the Tuareg/Kel Tamashek tribes living in the areas in Mali near the Mauritanian border. Documenting the divide between modern living and the nomadic way of the Tuareg and Kel Tamashek peoples, Footsteps in Africa sets out to explore these people's music, dance and way of life. Now while I did not receive a copy of the film, I can say the music is simply stunning.
With a pool of musicians like Jamshied Sharifi Habib Koité and Hassan Hakmoun, as well as the groups Tinariwen and Tuareg Nomads Kiah Keya, Footsteps in Africa leaps headlong into a kaleidoscope of African colors that are as brilliant and vibrant as their peoples. Jamshied Sharifi's bold cinematic sound wrapped around live jam tracks make this collection of songs a triumph.
Bluesy desert guitar lines and Hassan Hakmounlight up the opening track, "Open," while the earthy Tinariwen's flutes against reverent male vocals make "Assoul" richly soulful. Punchy numbers like Tuareg Nomads Kiah Keya's "Tuareg Goosi Jam in Tent" and "Tuareg Dance Jam" sparkle with the life of the Tuaregs. The call-and-response vocals against sinewy guitar lines mark "Alkhar Dessouf" as a signature Tinariwen track.
Footsteps in Africa pairs the sumptuously worked "Mariama" by Mr. Sharifi against the infectiously good natured "Tuareg Dance Jam" by Tuareg Nomads Kiah Keya so that it's impossible to not be snagged up by these meaty pairings, just as Mr. Sharifi's hypnotic "Tea" whisks the listener off on a journey of vast landscapes against the brightly colored "Red Ladies Tent Jam" by Tuareg Nomads Kiah Keya.
The musical landscape of Footsteps in Africa is haunting and magnificently rich as it explores the Tuareg's connection to each other and the earth.
Buy the recording: www.footstepsafrica.com
Author:
TJ Nelson
TJ Nelson is a regular CD reviewer and editor at World Music Central. She is also a fiction writer. Check out her latest book, Chasing Athena's Shadow.
Set in Pineboro, North Carolina, Chasing Athena's Shadow follows the adventures of Grace, an adult literacy teacher, as she seeks to solve a long forgotten family mystery. Her charmingly dysfunctional family is of little help in her quest. Along with her best friends, an attractive Mexican teacher and an amiable gay chef, Grace must find the one fading memory that holds the key to why Grace's great-grandmother, Athena, shot her husband on the courthouse steps in 1931.
Traversing the line between the Old South and New South, Grace will have to dig into the past to uncover Athena's true crime.