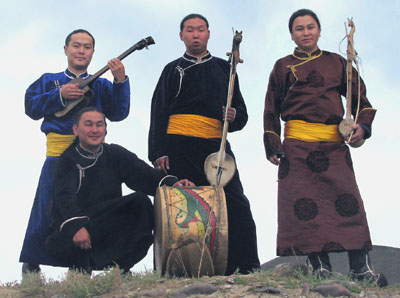 The Tuvan throat singers Alash will perform "Jingle Bells" and other holiday favorites with Béla Fleck & the Flecktones, to promote the Flecktones' Grammy-winning CD Jingle All the Way. The buzzy sounds of throat singing provide a surprise element in several songs, including the traditional Tuvan song "Dyngyldai" ingeniously interwoven with the English Christmas carol "What Child Is This?"
Alash recorded with the Flecktones while touring the United States in 2007, and last December they joined the Flecktones in several American cities to publicize the album's release. The Flecktones are long-time fans of Tuvan throat singing. Two of their earlier albums, Outbound and Live at the Quick, feature the celebrated xöömeizhi (throat singer) Kongar-ool Ondar, the original mentor and artistic director of Alash.
Buy the recordings: Jingle All the Way, Alash
Alash and the Flecktones will appear together in 14 cities from December 2 through December 19. The joint tour schedule is posted on Alash's website at http://www.alashensemble.com/performances.htm. The Flecktones' complete tour schedule is on their website at http://www.flecktones.com/tour.php.
Author:
World Music Central News Department
World music news from the editors at World Music Central