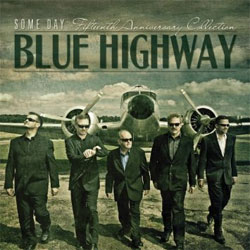 Rounder Records is pleased to announce the release of Blue Highway's Some Day: The Fifteenth Anniversary Collection on January 19. The CD is a collection of the best of their Rounder recordings, one cut from a Rob Ickes solo album, and 3 new selections including "Bleeding for a Little Piece of Mind," which was co-written by Tim Stafford and Darrell Scott and also features Scott on lead vocals.
Having previously released 8 highly acclaimed albums and toured internationally for 15 years, the members of Blue Highway — Tim Stafford (guitar, vocals), Wayne Taylor (lead vocals, bass), Shawn Lane (tenor vocals, guitar, mandolin, fiddle), Rob Ickes (Dobro, Scheerhorn acoustic slide guitar), and Jason Burleson (banjo, guitar, mandolin, bass vocals) – refuse to rest on their past accomplishments. Instead, they forge ahead, carefully balancing tradition with innovation, continually contributing to the depth and breadth of a flowing bluegrass river.
This is the same lineup that started this band a decade and a half ago – and they are one of the most accomplished and exciting groups in contemporary bluegrass today. Each member is among the most distinguished performers on his instrument of choice. Blue Highway fuses tradition with progress to create their own unique and timeless style, and they sing and play together like the family they are, after 15 years of recording and touring together. This album is a celebration of that musical synergy.
They first convened in 1994 and quickly set themselves apart from the bluegrass pack with a trio of heralded albums for Rebel Records that offered ample evidence of the band's ability to create striking original music that still resounded with timeless bluegrass soul. Blue Highway joined forces with Rounder Records in 2000 and their first Rounder release, in 2001, Still Climbing Mountains, was also their first album of entirely original material. It was followed in 2003 by the gospel project Wondrous Love, winner of IBMA's Gospel Performance of the Year in 2004, and by 2005's thrilling Marbletown, which featured original songs mixed with riveting interpretations of songs by such writers as Mark Knopfler (the title cut) and Gary Scruggs ("Lazarus").
Both Wondrous Love and Marbletown were nominated for Grammy awards – Best Southern, Country, or Bluegrass Gospel Album and Best Bluegrass Album respectively. Their latest 2008 release, Through the Window of a Train won 2008's IBMA Award for Song of the Year for "Through the Window of a Train."
Complete Track Listing:
1. Cold and Lowdown Lonesome Blues ** new
2. Through the Window of a Train
3. Bleeding for a Little Peace of Mind **new
4. Monrobro
5. Some Day ** Re-recorded and never released on Rounder before
6. Still Climbing Mountains
7. The Seventh Angel
8. Elzic's Farewell ** cut from a Rob Ickes solo album
9. Sycamore Hollow
10. Seven Sundays in a Row
11. Wild Urge to Ramble
12. Marbletown
13. Wondrous Love
Author:
World Music Central News Department
World music news from the editors at World Music Central