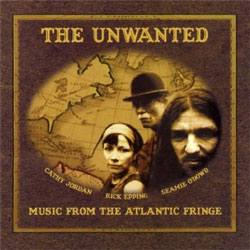 Irish band The Unwanted has released a new recording titled Music from the Atlantic Fringe. The songs and tunes of the Atlantic Fringe—the combined traditions from Ireland to Appalachia and beyond—are the result of generations of movement and migration, of leave-taking and homecoming, back and forth across the ocean in an endless tide of cultural exchange. Lyrics and melodies borrowed from one land wash ashore on another, only to return again later transformed, peopled with new characters and set in different modes.
The Unwanted are Dervish's Cathy Jordan, American musician Rick Epping and Sligo nativeSeamus O'Dowd. Between them, they encompass a vast range of the music of Ireland, the United States of America, and other places geographically and culturally linked to these lands that encircle the Atlantic Ocean. From the rich traditions of both sides of the Atlantic have come the source and inspiration of the music of The Unwanted—three Sligo-based musicians, each with exceptional talent and a lifetime dedication to their music.
The Unwanted demonstrate a deep understanding and appreciation of the music of both the Old World and the New, and together they have created a seamless fusion of these traditions, showing that the process of transformation arising from the musical ebb and flow along the Atlantic Fringe continues today.
Buy the recording:
Author:
World Music Central News Department
World music news from the editors at World Music Central