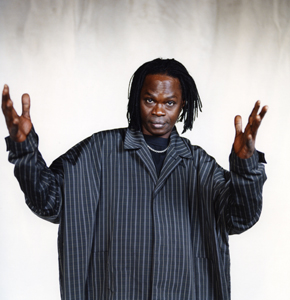 World Music Central's TJ Nelson interviewed Senegalese music star Baaba Maal about his multi-lingual album titled "Television."
About the release of your latest CD Television, you say about television, "The television set is like a stranger you didn't ask for coming into your living room. You don't care about who he is: he just seems to come from nowhere and gives you information." Sometimes with little distinction made between reality and make-believe on television, do you think we should know who is giving information and what information would you want people to know about the messenger? Because a song is a uniquely singular message from the songwriter or musician to the listener, do you see television with its mass diffusion of messages, often ripe with corporate or commercial interests, a confusing or inelegant agent in people's lives as opposed to music?
I did say that the television is an unwanted guest in your house! I think mostly we trust what is on TV, especially if you are seeing something live; it is just we have to be aware of the dialogue and that is what is liable to have a corporate, commercial or political bias. Television can however transform peoples lives, I know a lot of people all over Africa are addicted to European (particularly English) football and reality shows, but in Senegal we have had for years traditional Senegalese wrestling and since it has been televised recently the interest in it now is huge and the wrestlers have become stars and the matches take place in huge stadiums with singers and drummers and is a real spectacular African event.
Also in Africa we have had other European TV adaptations such as Big Brother Africa, but interestingly these programs also have an element of social responsibility and used to promote prevention of AIDS, the importance of education etc. In Africa, the musicians and song writers have always used songs to educate and inform, it has been an important part of our aural tradition and I do think a lot of the television stations in Africa recognize this and try to respect this tradition without abusing it.
Do you watch television and ever wish to change the background music? Have you ever composed a piece based on something you've seen on television?
I am not a TV addict, but I do watch television, sports (basketball and football), films, documentaries and I love a good drama series ("24" is a particular favorite and I can't wait to watch the new series on DVD). I have not specifically written a song based on something I have seen, but I am very influenced by documentaries and news programs and incorporate this knowledge into my lyrics. I think what came the closest was when I worked on the Black Hawk Down film soundtrack and sang about what was going on in the film.
In the past you have collaborated with the likes of Mansour Seck, Brian Eno and reggae's Luciano. On Television, you collaborate with Brazilian Girls members Sabina Sciubba and Didi Gutman. What drew you musically to Ms. Sciubba and Mr. Gutman? What was the process like for you?
arry Reynolds first introduced me to the Brazilian Girls and my first fascination when I heard the them was listening to the beautiful voice of Sabina and her singing in different European languages and that I loved the humanity and colors in her voice so it was natural that I wanted to work with her. I think our voices work very well together on this album and it was a privilege to work with her. What I wanted from Didi (Mr Gutman) from The Brazilian Girls was to replicate the sounds of Africa such as the wind and environment because it was these sounds that I could not find using traditional African instruments. I think and hope that we all really enjoyed the process of making this album, I certainly did.
In the blending of world music genres and pursuing musical collaborations, do you see this as the future of world music?
What is important is to open our ears to different sounds, styles and ways of working. Music is like a language – it changes and travels and grows, especially today when the world is so small. It is the future of music to blend, collaborate and evolve not just the future of world music.
What evolutions have you found in your own sound over the course of your career in recording and touring? Any growing pains with that evolution?
I would say that just because it is music made by an African artist does not mean that they should not use all modern technology and sounds that are available. After all almost all of what are seen as western instruments (guitar, keyboards) have their roots in traditional African instruments. It is in my character to explore new sounds, but I really think we have given my songs an African feel and that I do not want to be trapped by what western audiences think African music should be.
You participate as a United Nations Development Programme Youth Emissary and see the importance in empowering African women, particularly with the the track "Song For Women" on Television, how do you see music furthering those causes?
When I met Nelson Mandela with other musicians in London a few years ago at a concert in Trafalgar Square, he said to us all something that was very profound which was the role of musicians is so important as a lot more people listen to the words and songs of musicians than they do than those of the politicians, and so we should use this gift that we have for good and for change. I do try to always use my songs and interviews as a force for good and change.
Often, when I finish my western tours, I return to Senegal and play concerts in small villages with my band; we do this not through promoters or to make money but to campaign on important social issues like the rights of women and to promote the United Nation's millennium development goals. We play our concerts then afterwards or the next day we sit down with the people and discuss the issues of the day such as the importance of education and simple things how we can improve the quality of daily life and the importance of women in Africa and how we have to use their skills outside of the home. It is now great to see powerful political figures in Africa like Waangari Maathai and Graca Marcel.
In this age of economic turmoil and social unrest, do you have a message you'd wish to impart through your music?
I am very proud to be both from Senegal and a Fulani. Senegal and Mali, although we have our problems, both have very healthy and lively democracies and as a result have not been afflicted with the political upheaval that you have in other west African countries. This stability is so important for development and growth. Africa is a continent of 52 countries of which most are established democracies and not blighted by starvation and political instability. If only we could focus more on the diverse and vibrant culture of Africa this in itself would help us solve our problems.
What music genres, groups or CDs are you currently listening to?
I am listening to a lot of music at the moment, there are some great new artists in Senegal like Thionne Seck, Pape Diouf and Mah Sene. I also really like the way Vampire Weekend have used an African guitar sound in rock music. Of course I still listen to Otis Redding, James Brown and all the great R/B singers .
Some people think there's nothing new to be invented in music. Do you agree? What kind of music would you invent?
I disagree, as I said before music evolves and changes all the time and there is always someone finding new sounds and new styles and is normally the youth that find this.
What projects are you currently working on or would like to work on?
I have been in the studio a lot lately on many different projects. I have just recorded a song with Harry Belafonte for his latest project and working with a young very talented English musician called Sam Duckworth (Get Cape Wear Cape Fly) . I have also been working on some of my own new songs.
Is there a song you are completely addicted to? Perhaps a childhood song or a song from Senegal that every time you hear it you sing along or have it running through your head.
This must be 'One Love' by Bob Marley!
Buy Baaba Maal's recordings:
In North America: Television. Other titles available: Wango (Syllart / Stern's, 1985), Taara (Syllart / Melodie, 1987), Djam Leelii (Mango, 1989), Baayo (Mango, 1991), Lam Toro (Mango, 1993), Firin' in Fouta (Mango, 1994), Nomad Soul (Palm Pictures, 1998), Live at the Royal Festival Hall (Palm Pictures, 1999), Jombaajo (Sonodisc, 2000), Missing You….Mi Yeewnii (Palm Pictures, 2001), The Best of the Early Years (Wrasse, 2003), and On the Road (Palm, 2008)
In Europe: Television. Other titles available: Djam Leelii, Firin' In Fouta, The Best of the Early Years, Baayo, Live at the Royal Festival Hall, On the Road, Nomad Soul, Baaba Maal – Senegal Palm World Voice,

Lam Toro
Author:
TJ Nelson
TJ Nelson is a regular CD reviewer and editor at World Music Central. She is also a fiction writer. Check out her latest book, Chasing Athena's Shadow.
Set in Pineboro, North Carolina, Chasing Athena's Shadow follows the adventures of Grace, an adult literacy teacher, as she seeks to solve a long forgotten family mystery. Her charmingly dysfunctional family is of little help in her quest. Along with her best friends, an attractive Mexican teacher and an amiable gay chef, Grace must find the one fading memory that holds the key to why Grace's great-grandmother, Athena, shot her husband on the courthouse steps in 1931.
Traversing the line between the Old South and New South, Grace will have to dig into the past to uncover Athena's true crime.