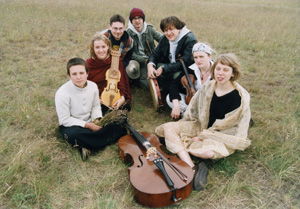 Warsaw Village Band will perform at Lula Lounge on Wednesday, November 4 of 2009 in Toronto (Canada). Warsaw Village Band play traditional Polish songs with youthful verve and modern sensibilities, where dance club drive and trancey echoes, drones and percussion unite ancient and modern.
Warsaw Village Band has already seen Grammy nominations and many awards. They've played more than 400 concerts on 4 continents and more than 30 countries, and as their star is continually rising with a new album called Infinity, they are only beginning a long and exciting career.
This is a short story of a band that is living proof that Eastern Europe can also bring exciting and unique elements to the global village – in spite of history and conditions. They've come a long way from young enthusiasts of Polish roots and natural vibes to mature-minded musicians and conscientious creators.
Formed in 1997, this group of friends spent a few years honing their skills on the Polish folk stage and made their first recording "Hop Sa sa" the same year. The band started their international career in 2002, when German label Jaro released their second album "People's Spring" (2001). According to Ulrich Balss (Jaro's owner), the response to the album was one of the biggest surprises in the history of the company and from an unknown Polish band, Warsaw Village Band swiftly gained it's spot on the international world music stage.
In 2004, the group won the very prestigious BBC Radio 3 Award for World Music as Best Newcomer and the same year they garnered the European Broadcasting Union award for Best Folk Recording.
Buy Warsaw Village Band's recordings:
Lula Lounge, 1585 Dundas St. W., Toronto
Wednesday, Nov. 4 at 9:00 pm
Tickets: $20 advance / $25 door at www.smallworldmusic.com
Author:
World Music Central News Department
World music news from the editors at World Music Central