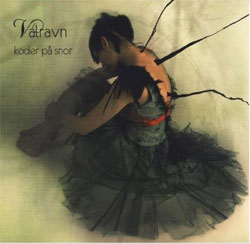 Valravn
Koder på snor (VME, 2009)
Self described as Danish/Faorese folktronic, Koder på snor, the second release by the group Valravn, is a musical fantasy land filled with Nordic folk songs set under a shape shifting sky of electronica. Edgy, atmospheric and deliciously fearless, Koder på snor drags the listener by the hair on a mental journey over sweeping forests and deep into moody waters. The result is strange and wonderful, intensely outlandish and utterly hypnotic.
Valravn debuted in 2007 with their first self-titled CD Valravn. Since then the band has toured across Europe, received three Danish Music Awards and will be gracing the stages at this year's Womex in Copenhagen, Denmark in October. Transforming the traditional into the extraordinary, Valravn unleashes Nordic folk, letting it roam the countryside at will, and in turn finds an edgy drama that is just downright fierce – and the group hasn't let listeners off the hook with Koder på snor.
Faroe Islands singer Anna Katrin Egilstrøð; flautist, violist and Danish singer Martin Seeberg; mandola, hurdy gurdy, nyckelharpa player and fellow Dane Søren Hammerlund; davul, hammered dulcimer and percussionist Juan Pino with roots in Switzerland and Ecuador and Danish Christopher Juul who takes care of keyboards and electronica make up Valravn.
Koder på snor captures the listener from the opening strains of title track "Koder på snor." Laced with Ms. Egilstrøð's ethereal vocals and hammered dulcimer, this track charms with a savage wildness. Tracks like "Kelling" and "Kraka" are propelled by driving rhythms and kaleidoscopic electronica, while tracks like "Sjón" and the eerily quaint "Fuglar" traverse an almost mythic landscape. Fiery "Kroppar" and the dreamy-turned-ferocious "Lysabild" are standout tracks; both paint a landscape that is thoroughly modern but with ancient callings.
Koder på snor is a stunning, headlong leap into folktronica.
Buy Koder på snor
Author:
TJ Nelson
TJ Nelson is a regular CD reviewer and editor at World Music Central. She is also a fiction writer. Check out her latest book, Chasing Athena's Shadow.
Set in Pineboro, North Carolina, Chasing Athena's Shadow follows the adventures of Grace, an adult literacy teacher, as she seeks to solve a long forgotten family mystery. Her charmingly dysfunctional family is of little help in her quest. Along with her best friends, an attractive Mexican teacher and an amiable gay chef, Grace must find the one fading memory that holds the key to why Grace's great-grandmother, Athena, shot her husband on the courthouse steps in 1931.
Traversing the line between the Old South and New South, Grace will have to dig into the past to uncover Athena's true crime.