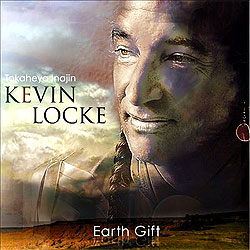 On Saturday October 3, 2009 the Eleventh Annual Native American Music Awards (N.A.M.A.) was held at the Seneca Niagara Hotel & Casino in Niagara Falls in front of a packed house that featured consistently outstanding live music performances along with an emotionally charged Hall of Fame induction in honor of the late Ritchie Valenz.
Taking this year's top honors are; Joanne Shenandoah & Michael Bucher's Bitter Tears Sacred Ground for Best Compilation, Jana Mashonee's rendition of Sam Cooke's, A Change Is Gonna Come with Derek Miller for Song/Single of the Year, Jan Michael Looking Wolf for Artist of the Year, Skylar Wolf for Debut Artist of the Year, Will and Lil Jess for Debut Duo/Group of the Year, Kevin Locke's Earth Gift for Record of the Year, and American Idol Semi-finalist Charly Lowry for Best Video for her long form video featuring her song, Movin On.
Hosted by actor Gil Birmingham, others on hand at the Awards ceremony included: Shane Yellowbird who won for Best Country Recording, Atsiaktonkie who won for Best Folk Recording, Flutist of the Year JJ Kent, Wind Spirit Drum whose recording Amazing Grace took Best Gospel Inspirational Recording, Thunder Hawk Singers for Best Historical Recording, Gabriel Ayala for Best Instrumental Recording, Bryan Akipa For Best Male Artist, Eagle & Hawk for Best Rock Recording, Rezhogs for Best Rap Hip Hop Recording, Oshkii Giizhik Singers for Best Traditional Recording, Michael Searching Bear for Best World Music Recording, and Michael Brant DeMaria for the Native Heart Award.
Other nominees in attendance included; Benjamin Grimes, Kelly Montijo Fink, Jackie Tice, Mike Serna, Pappy Johns Band, Jimmy Shendo, Augusta Cecconi Bates, Douglas Blue Feather, Yvonne St Germaine and Donna Kay who all participated in the program.
Capping the evening's ceremonies were consistently transcendent and flawless performances beginning with drum group Young Gunz, Dallas Washkahat and Fawn Wood, classical guitarist Gabriel Ayala, Eagle & Hawk, soprano opera singer Jennifer M Stevens accompanied by composer Augusta Cecconi-Bates, Joanne Shenandoah and Michael Bucher who performed material from their award-winning recording, Lifetime Achievement Recipient Stevie Salas pumped it up with original Pearl Jam drummer Dave Abbruzesse and bass player TM Stevens of Shocka Zooloo and the late James Brown, and a spectacular rendition of Stevie Ray Vaughn's Pride & Joy by the show's host Gil Birmingham and nominee Jimmy Wolf. Darryl Tonemah gave a rising performance in his trademarked bare feet, Jana's riveting vocals were unmatched, Shane Yellowbird showcased material for his upcoming Grand Ole Opry appearance, and new artist Jace Martin captured the audience with his Ritchie Valens tribute song, We Belong Together.
Tommy Allsup, original guitarist of the Buddy Holly band who flipped a coin with Ritchie Valens for the last seat on their ill-fated plane, bought the audience to tears as Allsup, who became emotional and choked up as he recapped and retold the story of his tour mate Ritchie Valens and his tragic end.
Following the Hall of Fame induction and Ritchie's sister, Irma's acceptance speech, Tommy Allsup, who is an enrolled member of the Cherokee Nation, joined Ritchie's little brother, Mario, and his group, The Backyard Blues Band, who rocked the house and performed a special extended rendition of "La Bamba".
Complete list of winners:
ARTIST OF THE YEAR
Jan Michael Looking Wolf, The Looking Wolf Project
BEST BLUES RECORDING
Dancing In The Rain – Graywolf Blues Band
BEST COMPILATION RECORDING
Bitter Tears-Sacred Ground – Joanne Shenandoah & Michael Bucher
BEST COUNTRY RECORDING
Life Is Calling My Name – Shane Yellowbird
DEBUT ARTIST OF THE YEAR
Skylar Wolf – Devil's Son
DEBUT DUO / GROUP OF THE YEAR
Will & Lil Jess – Reservation Nights
BEST FEMALE ARTIST
Joy Harjo – Winding Through the Milky Way
BEST FOLK RECORDING
Four Wolves Prophecy – Atsiaktonkie
FLUTIST OF THE YEAR
JJ Kent – Ta Te' Topa Win
BEST GOSPEL/INSPIRATIONAL RECORDING
Amazing Grace
Lenape Spirits
Wind Spirit Drum
GROUP OF THE YEAR
Brule' – Lakota Piano II
BEST HISTORICAL RECORDING
Native Pride – Thunder Hawk Singers
BEST INSTRUMENTAL RECORDING
Tango! – Gabriel Ayala
BEST MALE ARTIST
Bryan Akipa – Songs From the Black Hills
BEST NATIVE AMERICAN CHURCH RECORDING
Peyote Ways – Primeaux & Mike
BEST NEW AGE RECORDING
Deep Within – Tony Redhouse
BEST POP RECORDING
Na Unu Nahai (Shape Shifter) – Apryl Allen
BEST POW WOW RECORDING
Band of Brothers – Midnite Express
BEST PRODUCER
Kelly Parker – Out Of The Blue
BEST RAP / HIP HOP RECORDING
All Day All Night – Rezhogs
RECORD OF THE YEAR
Earth Gift – Kevin Locke
BEST ROCK RECORDING
Sirensong – Eagle & Hawk
SONG/SINGLE OF THE YEAR
A Change Is Gonna Come – Jana Mashonee
SONGWRITER OF THE YEAR
Samantha Crain – The Confiscation: A Musical Novella
BEST SPOKEN WORD RECORDING
The Great Story from the Sacred Book – Rain Song/Terry & Darlene Wildman
BEST TRADITIONAL RECORDING
It Is A New Day – Oshkii Giizhik Singers
BEST VIDEO
Movin On – Charly Lowry & Aaron Locklear
BEST WORLD MUSIC RECORDING
Ceremony – Michael Searching Bear
NATIVE HEART
Michael Brant DeMaria – Siyotanka
LIVING LEGEND
Tommy Allsup
HALL OF FAME
Ritchie Valens
Author:
World Music Central News Department
World music news from the editors at World Music Central