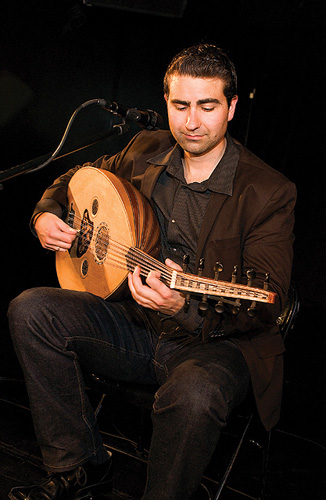 The Maeandros Ensemble will perform Friday, October 9 of 2009 at 8:00 pm at the Peter Norton Symphony Space, Broadway at 95th Street, in New York City. The Maeandros Ensemble, led by the brilliant oud (lute) player and vocalist Mavrothi Kontanis, recreates the music of the 1920s -1940s, specializing in Smyrneika and early rembetika (which some call the "Greek blues") songs which have their roots in the urban music of Constantinople (Istanbul), Smyrna (Izmir), and later Athens and Thessaloniki. The program features many songs which were originally performed by the most recognizable names of the time, including Antonios Dhiamantidis, Roza Eskenazi and Rita Abadzi, along with music from the Ottoman repertoire.
Kontanis is joined by Lefteris Bournias, the leading Greek clarinetist in the United States who is known for his breathtaking solos; violinist Megan Gould, one of New York's most versatile performers of Greek, Middle Eastern and popular music; and percussionist Timothy Quigley, a specialist in Balkan and Middle Eastern rhythms who has worked with Andy Statman, Frank London, and Yuri Yunakov, among others.
The Maeandros Ensemble, which features some of the finest performers of traditional Greek and Near Eastern music in the country, is named after the river that "meanders" throughout Asia Minor (modern-day Turkey). Just as this ancient and mighty river winds through different regions and towns, Mavrothi Kontanis and the Maeandros Ensemble transport their audiences through various genres of related musical traditions from Asia Minor and the Aegean region: songs of the countryside, urban songs from the city centers, Ottoman court music, and regionally-inspired works. One of the main aspects of this mixed repertoire is the importance of the shared cultural heritage of the region, including Greek, Turkish, Armenian, Persian, Arabic, Jewish, Gypsy and Assyrian influences.
Mavrothi T. Kontanis, whose family comes from Halkidiki, Greece, was born in 1979 in Pennsylvania and currently lives in Jersey City. As a child, he showed interest in several instruments, including the clarinet, guitar, and bouzouki. However, at the age of 16 he discovered his true passion, the oud, and began lessons with his first teacher Stamatis Merzanis. Since then he has studied with many other renowned masters including Münir N. Beken, Emin Gündüz, John Berberian, Kyriakos Kalaitzides, Dinçer Dalkılıc, Yurdal Tokcan, and Ara Dinkjian.
In addition to playing oud, Mavrothi has become an accomplished singer and violinist, and performs on baglama, tzura, and tambura. He has appeared throughout the US, Europe, and the Middle East playing traditional and classical music from all over the world, as well as original compositions of his own with various ensembles. He has been featured on several albums and the film soundtrack of AmericanEast, and released two albums in 2008: Wooden Heart and Sto Kafesli Sokaki that showcase the oud and diversity of sounds from the Aegean region. By combining his love for classical, urban, and folk music from Greece and the Near East, he hopes to heighten awareness of the great beauty and freedom that exist within this distinctive musical tradition, especially through the Maeandros Ensemble, which he founded in 2006.
This program is made possible in part with public support provided by the New York State Council on the Arts, a State agency, and the New York City Department of Cultural Affairs. Additional funding is provided by American Express.
This program is part of Daniel Pearl World Music Days, an annual global event dedicated to the ideals of tolerance, friendship and a shared humanity.
$25; $18 students with college I.D. Box office (212) 864-5400
Information and tickets (212) 864-5400 www.worldmusicinstitute.org
For video, visit http://www.maeandros.com
Author:
World Music Central News Department
World music news from the editors at World Music Central